Korg has teamed up with the hugely popular and globally successful virtual band Gorillaz to create a new dedicated beatbox for the iPad: The iELECTRIBE Gorillaz Edition. A limited run of 10,000 units released at a very special price of US$9.99. *Sales beyond 10,000 units are yet to be determined (as of April 18, 2011).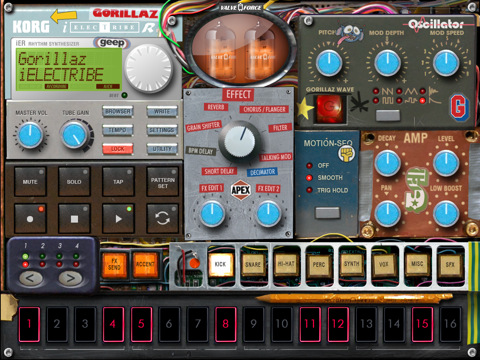 The iELECTRIBE is a virtual analog beatbox for the iPad; sound creation is easy, fun and intuitive – just as on a vintage analog synthesizer. Simply choose a part and touch the 16-step sequencer to quickly build a groove. The aggressive sound, unique functionality, and intuitive beat-building style of the iELECTRIBE made it a favorite of Gorillaz for their latest album "The Fall".
While retaining the intuitive beat-making features of the iELECTRIBE, the special Gorillaz Edition is a new machine customized to generate Gorillaz samples from their fourth album "The Fall" which allow the user to create music in a wide variety of musical styles. The iELECTRIBE Gorillaz Edition features: a unique design and synthesizer engine including 128 new sounds created by Gorillaz; and 64 ready-to-use pre-programmed patterns by the sound team Gorillaz, Stephen Sedgwick, and Korg.
Sound Engine:
– PCM Synthesizer; 128 PCM Samples; 8 parts x 16 types
Instrument Voices (Parts):
– 8 Total: 8 PCM synthesizer parts
Effect Section:
– Master Effect: Assignable per step/per part
– 8 Effect Types: Short Delay, BPM Sync Delay, Grain Shifter, Reverb, Chorus/Flanger, Filter, Talking Modulator, Decimator
Sequencer Section:
– Patterns: 64 steps maximum per part (Motion Sequencing can memorize all knob motions in a pattern)
– Tempo: 20-300BPM (with Tap tempo and Swing function), Pattern-set function (iELECTRIBE has no "Song" function)
Pattern Memory:
– 160 Total: 32 preset patterns x 2 banks; 32 blank patterns x 3 banks
Other:
– Virtual Valve Force Tube Modeling
– Audio Export feature: Bounce Pattern, Real-Time Recording (16-Bit / 44.1 kHz Stereo WAV format)
– Publish and share songs online with the SoundCloud music distribution site*
– Supports WIST (Wireless Sync-Start Technology)
– Supports "AudioCopy" function
– Supports performance and controls on an external USB-MIDI device (via the Apple iPad Camera Connection Kit)