Legendary Wavedrum technology – now in compact form! Announcing the energetic and on-the-go Wavedrum Mini; with built-in speaker, battery-powered portability, and a revolutionary sensor clip that transforms nearly any object into an instrument.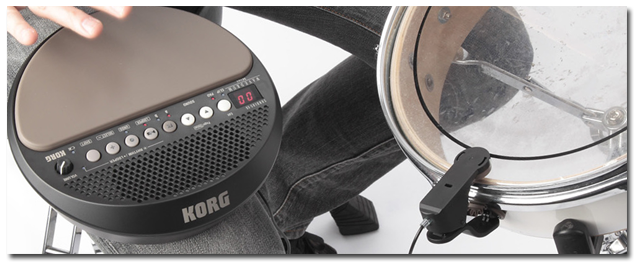 Wavedrum Mini highlights
Portable percussion synthesizer built on Korg's renowned Wavedrum technology
Play two sounds at once for a rich musical experience:


Play one sound from the dynamic pad
Play a second sound from any surface or object using the sensor clip

100 Ready-to-play sounds ranging from acoustic tones to synthetic sounds
100 Rhythm patterns serve as a rhythmic guide or provide jam-along-fun
10 Preset audio effects; select any effect and enhance any sound
On-board Looper allows unlimited overdub layering for complex, multi-sound patterns
Share your sounds using the built-in speaker, or practice using headphones
Battery operation lets you play with confidence on the street, outdoors or anywhere
AC Adapter and mounting strap are included
With drum and percussion sounds from around the world, revolutionary synth sounds, plus unique original sounds, the Wavedrum Dynamic Percussion Synthesizer has been embraced by percussionists, drummers, and music lovers around the world.
The all-new Wavedrum Mini carries on this sound concept in a compact and portable format – complete with a built-in speaker and battery power for play anywhere convenience. In addition to its dynamic pad surface, the Wavedrum Mini also includes a newly-developed sensor clip which can be attached to a table, cup, or any object, allowing it to be played as a percussion instrument. Using the sensor clip and the pad allows two sounds to be played at once, doubling the Wavedrum Mini's performance potential. Choose from 100 great sounds; add in one of the 10 exciting effects; play along to one of the 100 internal rhythm patterns, or record with unlimited overdubs using the built-in Looper. The possibilities are endless. The Wavedrum Mini will appeal to musicians who value a truly original performance, or to any beginner simply looking to enjoy playing a musical instrument.