As a leading manufacturer of live and studio mixing consoles, Yamaha provides the perfect platform for this processing. The system includes everything Yamaha users need to process their live performances using Waves plugins, as well as the tools to capture their performances into a DAW. The SoundGrid Compact System represents the first time Waves has assembled all the components needed to run Waves plugins on a Yamaha console into a single, very affordable package, making the purchasing experience easier and more straightforward for users.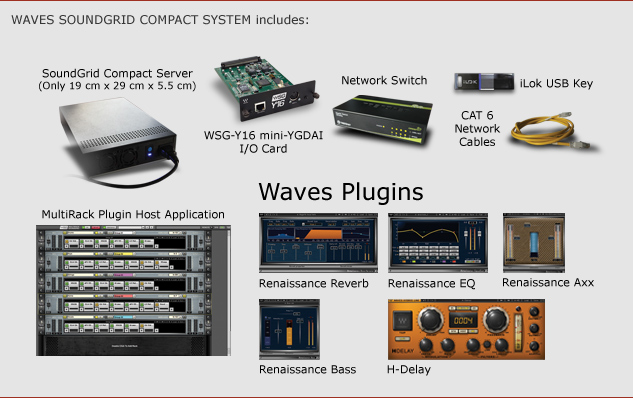 With the SoundGrid Compact System, users can process up to 16 live audio channels using up to 40 plugins in real time with super low latency; record MultiRack-processed tracks in real time, direct to a DAW in the same computer, pre- or post-processing (or both, for maximum flexibility); and adjust their plugins, racks and console settings, without having the band on stage.
The Waves SoundGrid Compact System includes a number of hardware and software components. Hardware includes the SoundGrid Compact Server (measuring a mere 19 cm x 29 cm x 5.5 cm), the WSG-Y16 mini-YGDAI I/O Card, a Network Switch, iLok USB Key and Cat 6 Network Cables. Software components include the following popular Waves plugins: MultiRack Plugin Host Application, Renaissance Reverb, Renaissance EQ, Renaissance Axx, Renaissance Bass and H-Delay.
Waves' SoundGrid Compact System is compatible with the following Yamaha products: PM5D, DSP5D, M7CL, LS9-32, LS9-16, DM2000, DM1000, 02R96, 01V96, DME64N, DME24N and TX6n/TX5n/TX4n.
About SoundGrid
Waves SoundGrid gives users the ability to run large numbers of Waves' award-winning audio processors using standard PCs via Ethernet, far surpassing the specs of dedicated DSP-based platforms. SoundGrid offers super low latency performance, which means users can take advantage of even more audio processors and CPU-intensive processors than ever before. Waves is leveraging the recent advances in both Ethernet and CPU technologies to provide better, more cost-effective performance for the pro audio and live sound markets.
Pricing and Availability:
The Waves SoundGrid Compact System is now available with a U.S. MSRP of $1100.00.