Something that caught our eye, the Niio Iotine Core Multi Layer Sound Processor, while roaming the Messe floor for interesting gear. The IOTINE CORE is an analog mixing tool designed to allow flexible sound shaping for a recording or live environment. The IC is ideal for breaking up a track for creative sound design and mixing.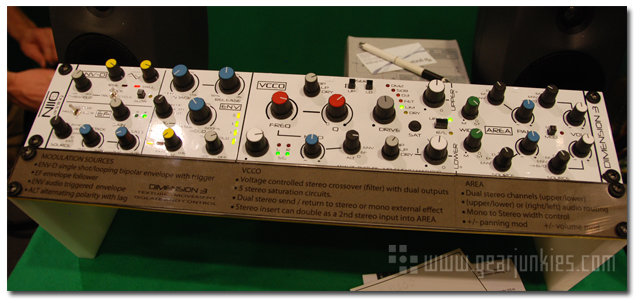 The dual VCF channels can be used for dynamic filtering, as well as to split and mix the sound by frequency. 14 analog saturation circuits are available for adding character and texture, as well as creating a unique space within the mix. The IC features 3 separate processing layers that each includes a Filter, VCA, and a selection of Saturation circuits. Both channels feature a smooth 12db VCF, ideal for audio filtering and reminiscent of 12db synth filters but with very low noise and full frequency range. The dual channel SAT selection with variable DRIVE offers rich texture and intensity circuits designed to alter sound density through a range of analog techniques.
Dynamic movement of frequency and amplitude of the layers is a base design feature of the IC. The movement is derived from envelopes that are triggered by the input, resulting in organic and flexible modulation that conforms to the sound and creates a living animation that pulls out or pushes down elements of the sound. Further processing can be applied by separating the layers on output from the IC, allowing external mixing and effecting options that expand the unit into an incredibly flexible processing system.
Features:
3 signal layers
Dense analog processing
Excellent filters
14 Saturation circuits
Dynamic modulation
2 in /4 out routing