Strip T's is a channel strip plugin, designed to be as straight-forward to use as possible but with a wide range of sonic sculpting possibilities. It has a gate, low-cut filter, 3 band EQ, soft-knee compressor and soft/hard clipper, plus metering and a full stereo audio path.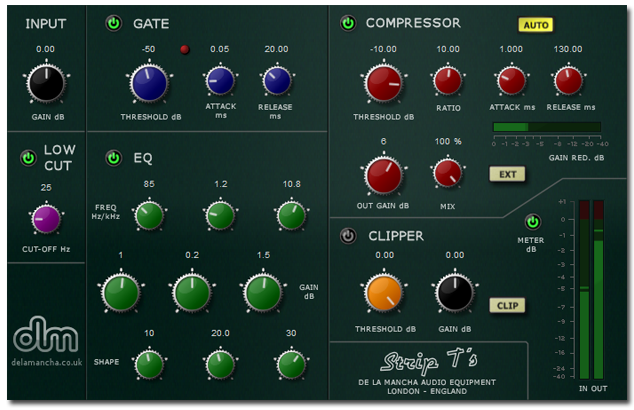 Strip T's brings together the knowledge and experience from developing individual effect plugins like the QB-3 EQ, sixtyfive compressor and ClipStar soft clipper. By combining the core parts of these effects, a significant amount of CPU is saved compared to running these plugins individually.
Each stage can be turned off when not needed to save further CPU, and a mono version is also available which is even more efficient.
Features:
• Stereo Channel Strip with gate, filter, EQ, compressor and clipper stages
• Full stereo signal path (mono version also included)
• Noise gate with attack & release plus indicator to show when in operation
• Low-cut filter to take out inaudible sub bass and free up headroom
• 3 band EQ, with selectable frequency ranges and EQ shapes
• Soft-knee, RMS Compressor with parallel compression and external sidechain
• Clipper offering soft and hard clipping
• dB meters showing current and peak levels for input and output
• Developed with SE 1.1, so no problems with multiple instances
• Stereo, Mono and non-sidechain versions included