Compact and convenient, with serious functionality and features, nanoSERIES2 incorporates many user-requested enhancements and offers them up in the same ultra-slim casing as the original nanoSERIES. The size and color of the entire series nicely matches a laptop computer. Available in both white and black, the new units – the nanoKEY2, nanoPAD2 and nanoKONTROL2 – are an ideal choice in portable control for laptop musicians, DJs, remixers and anyone who wants to make music with their Mac® or PC. All three units are also a perfect addition to Korg's 37-note microKEY USB MIDI keyboard.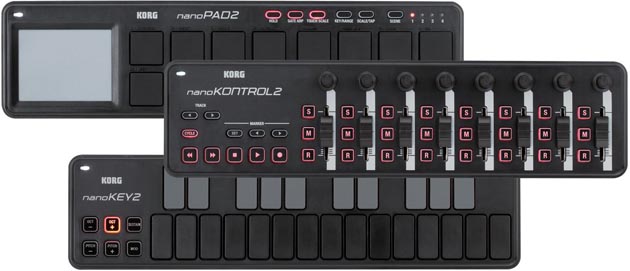 The nanoKEY2 is a 25-note keyboard controller for creating songs, featuring a separate-type keybed (modeled after that of a Macbook®) to ensure precise, reliable recording, as well as a damper button offering sustain on the fly. It is designed with ample key width for maximum playability. Control buttons allow simple yet versatile control. Included are octave shift buttons, which, when used in conjunction with the key transpose function, cover the entire range of notes in the MIDI specification. Also featured are pitch bend buttons and an assignable modulation button.
The nanoPAD2 is an ideal choice for inputting drum parts; it also boasts new functionality that lets users record using the X-Y pad, just as on Korg's Kaossilator Pro. Enhancements include four more pads (16 to the original nanoPAD's 12) and Kaossilator gate arpeggio patterns built into the X/Y control pad, letting users play MIDI arpeggios. The velocity-sensitive pads provide excellent response to users' fingertips, and also realistically convey the playing feel to a sequencer or DAW software, ensuring that drum parts will be full of life. Chords can also be assigned to the trigger pads to use them to perform a chord track.
The nanoKONTROL2 is perfect for controlling a wide variety software titles including the most popular DAW programs. Perfectly-sized to place in front of a notebook computer, the nanoKONTROL2 provides eight channels of the controllers needed to control music software, plus a set of transport buttons. A knob, fader, and three switches are provided for each of the eight channels, respectively assigned to pan, volume, and solo/mute/record (or whatever the user specifies). Also featured is improved transport control with Mackie® HUI protocol built in (a feature previously only offered on controllers of a higher price point, bringing this protocol to the most accessible price point ever).
All three nanoSERIES2 products can be further customized using the included Korg Kontrol Editor software, featuring single-cable USB bus-powered operation– Power and USB-MIDI data travels down the same wire for a clean, efficient workspace.