The Neo-Soul Suitcase Fender Rhodes Plugin, is a very specific urban sounding rhodes that is designed to reproduce the exact sound, feel, and playability of a real Fender Rhodes Suitcase with the detail and expressiveness of the fender cabinet and, of course, the most beautiful vibrato (for use with the Native Instruments Kontakt 4 Sampler).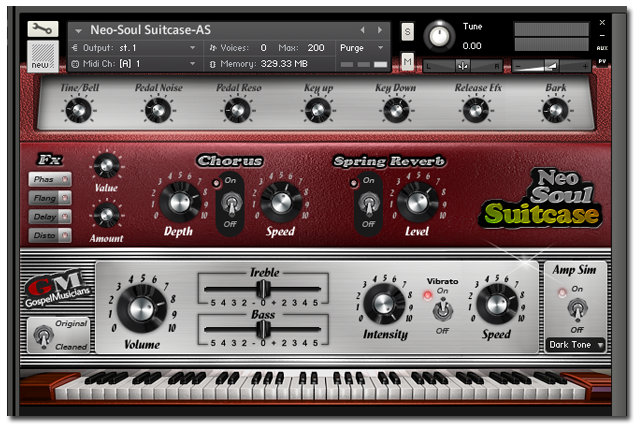 Their #1 goal was to make sure that if you were not able to take a real rhodes to your gig or studio, then this plugin would be the next best thing. Our rhodes sound is a combination of samples (2.6GB), physical modeling, and complex impulse response algorithms that will give you the grit of hip-hop; the silkiness of R&B; and the soul in neo-soul. The absolute number one goal was realism and with vintage modeled effects; complex impulse response algorithms; and tweak-able knobs for ultimate control, you will have the best rhodes experience ever produced in a plugin.
With all of this, they can safely say that you can leave your Rhodes at home and replace it with the Neo-Soul Suitcase!
• Dedicated 2.6GB of sample data (44.1kHz/24-Bit)
• 12-Velocity layers of sustain, release, and staccato (bark) notes
• Bass and Treble Boost
• Tine/Bell Controls
• Pedal Noise and Resonance sounds when sustain pedal is pressed
• Key release noises, emulating a real rhodes
• Velocity layered release samples
• Dedicated Bark samples, for more aggressive sounds
• Vintage Modeled Vibrato
• Impulse Response Amp Modeling of Vintage Amps
• Warm Phat Chorus for a Thick Layered Sound
• Special EFX Section: Phaser, Flanger, Distortion, Delay
• Vintage Modeled Spring Reverb
• Kontakt 4 Advanced Scripting
• Disk Streaming to Reduce Memory Usage
• Easy MIDI Learn function for all knobs, sliders, and buttons
• Real-Time MIDI controls that can be saved in a patch
• Clean/Original Switch for raw samples or cleaned up sounds
Classification Tags:
Instruments: Electric Piano
Effects: Distortion/Overdrive/Amp, Modulation (Flanger/Phaser/Chorus/Tremolo), Reverb,
Host: Plug-in Chainer/Rack
Development Tools: Save as VST
Format:
Kontakt 4.2.3 Retail Version
Cost: $99.99, with introductory price of $79.99