SampleTank for iOS is the mobile version of IK's SampleTank for Mac and PC, the leading virtual sound workstation for the studio, now available for your favorite iOS mobile device and designed for live performance. It is a 4-part multi-timbral instrument with a sound set of over 1 GB of samples for over 500 acoustic, electric and electronic instruments including a selection of the best workstation sounds from SampleTank, orchestral sounds from Miroslav Philharmonik and synths sounds from SampleMoog plus a selection of over 1,000 melodic and rhythmic patterns that span every musical genre. SampleTank for iOS brings the power of the most popular computer sound module – which has appeared in thousands of award winning records from world-class artists – to your iOS device.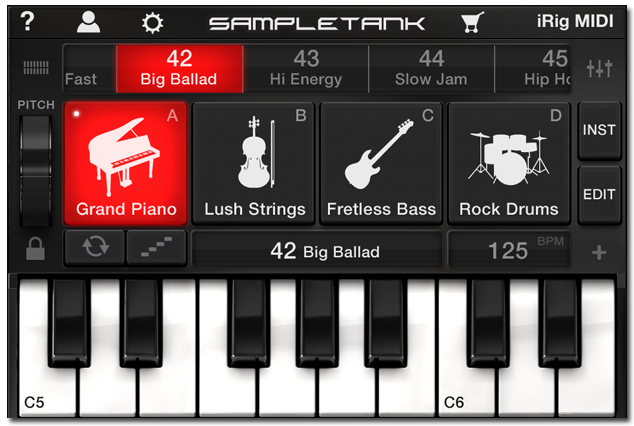 SampleTank includes 20 studio quality insert effects that can be applied to each individual instrument (up to 4 insert effects per part). These effects continue in the IK tradition started by T-RackS and AmpliTube by providing the best models of classic and modern analog and digital outboard gear: AM Modulation, Auto Pan,
Channel Strip, Chorus, Compressor, Crusher, Filter, Flanger, FM Modulation, Guitar Amp, Lo-Fi, Multi Chorus, Overdrive, Parametric EQ, Phaser, Phonograph, Rotary Speaker, Slicer, Tremolo and Wah Wah. SampleTank also includes a master send effect for applying reverb or delay (or both!) to all of your instruments. Choose from Delay, Reverb, Reverb Delay and Spring Reverb.
The SampleTank interface was designed from the ground up for easy, intuitive use on the mobile platform. Four instrument pads allow the user to quickly switch between sounds during live performance and / or layer them for more complex and deep timbres. SampleTank can also be used as a multi-timbral module to playback instruments on 4 channels simultaneously. Single instruments, layers and multi-timbral operation can all be used simultaneously, of course, so you can play back one instrument from a MIDI sequence, play a lead instrument from an external MIDI keyboard and then back it with a lush, layered soundscape from the mini keyboard built right into the app. You can also quickly adjust volume, pan and effect send levels for each instrument all from a single window.
For more advanced users, SampleTank provides an edit mode with all the synthesizer parameters you expect
from a professional grade instrument including a highly flexible resonant multimode filter with slopes of 6 – 24 dB per octave, two LFOs, two envelopes and flexible modulation matrix. For live performance controls, SampleTank provides three different windows: 4 Faders, 2 ribbons and an X-Y pad in addition to a pitch and mod wheel.
Features:
4-part multi-timbral live sound module
1GB on-board sound library with 500 instruments in 20 categories
Huge selection of melodic and rhythmic patterns for accompaniment or groove creation
Choose from 20 insert FX with 4 available insert FX per part
Master send effect for reverb and delay
Easy-to-use, intuitive mobile interface
Dedicated performance and editing windows
Designed in concert with iRig MIDI interface for iOS devices
Free version also available*
Compatibility:
Compatible with iPhone 4, iPhone 3GS, iPod touch 4th and 3rg generation, iPad 2 and iPad
Compatible with iOS 4.2 and newer
iPad Version also in development.
* All IK mobile apps will be available for download from the App Store.