iRIG MIDI is a compact iOS MIDI interface that connects MIDI-equipped instruments and devices to an iPhone, iPod Touch or iPad by using the 30-Pin connector. You can play virtual instruments on your iOS device from any external MIDI controller – anything from a super-compact portable keyboard to a full 88-note weighted digital piano can now connect to your iOS device with ease. You can also use your iPhone/iPod Touch/iPad to control external MIDI devices such as sound modules or even pedal boards or lighting mixers.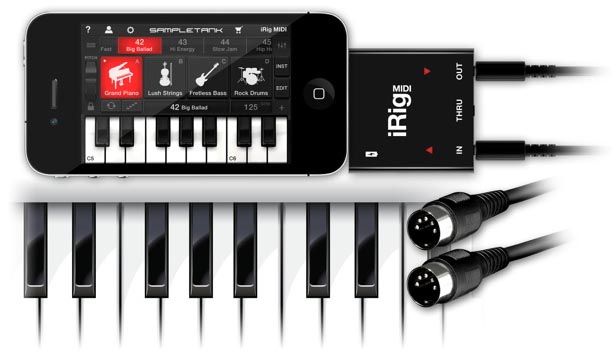 iRig MIDI sports 3 MIDI ports (IN, OUT and THRU) that can be conveniently connected to any devices using the included the long TRS Mini-Jack to MIDI cables. 2 LED indicators clearly signalize MIDI activity and an additional mini USB port allows keeping the iOS device powered and charged during long playing sessions!
iRIG MIDI Specs:
• MIDI IN, MIDI OUT and MIDI THRU ports
• Core MIDI compatible connects any Keyboard, Drum Machine, Drum Pad, Pedal Board etc.
• Connect to the iPhone, iPod Touch or iPad via 30 pin connector
• Totally portable, powered from the iOS device, does not require external power
• MIDI Activity indication LEDs for MIDI IN and MIDI OUT
• 5V DC in socket on micro USB to charge the iOS device while iRig MIDI is in use (cable included)
• 2 pcs. 1.6 mtr. TRS Mini-Jack to MIDI 5-pin DIN cables included.
• Lightweight solid construction does not stress iOS device connector
• Ultra compact design that fits in your pocket
• Inlcudes SampleTank FREE App to turn your iOS device into a powerful MIDI controlled sound module
• Includes iRig MIDI Recorder FREE App to save and playback MIDI recordings.
Estimated Street Price: EUR 55,- Incl. VAT