The new discoDSP Corona is a virtual analog and wave synthesizer for Audio Units, VST hosts featuring 3 VA + WAVE oscillators, up to 14 combine modes between oscillators resulting in extensive timbres, 8 destination matrix modulations, 3 LFOs, 3 ADSR envelopes, unison, chorus, delay and limiter effects with high-quality sound and analog modeled filters using a straightforward and easy to use interface.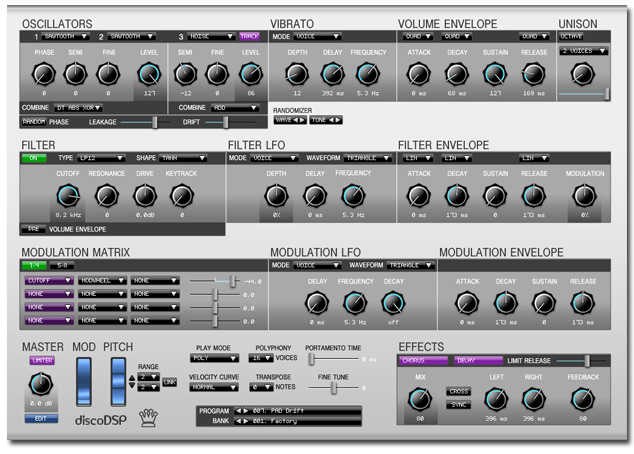 Hundreds of waveforms
From classic VA saw, triangle, square, sine, parabola and noise to the included waveforms in two extra DWB banks with 300+ timbres from:
Aeterphon.
ARP 2600.
Buchla Modular.
Crumar Performer Elka Synthex.
Eminent 310.
EMS VCS-3.
Fairlight CMI.
Farfisa organ.
Fender Rhodes.
Hohner.
Jen Bass Pedal.
Korg Lambda.
Korg MS-20.
Korg Polysix.
Mellotron.
Memorymoog.
Micromoog.
Minikorg.
Minimoog.
Modulus Monowave.
Moog MG-1.
Moog Prodigy.
Moog Rogue.
Moog Taurus.
Oberheim Matrix.
Oberheim OB8.
Oberheim Xpander.
Odissey.
Paia Fatman.
Polymoog.
Prophet 5.
Prophet 600.
Rhodes Chroma.
Rhodes Polaris.
Roland Alpha Juno.
Roland Juno 60.
Roland Juno 106.
Roland Jupiter 4.
Roland JX.
Roland SH-101.
Roland System 100.
Theremin.
Vox Jaguar.
Waldorf Pulse.
Yamaha CS80.