Final assembly of the anticipated Equator Audio Research D5 Studio Monitor is now in process. Initial delivery is expected Monday, July 25. All preorders of the D5 studio monitors will lock in the introductory price of $299.99 per pair. The new D5 (Direct 5) studio monitors are geared for the recording professional in need of a small (9.75″ x 7″ x 8.5″), affordable, accurate, well-voiced, reference studio monitor solution.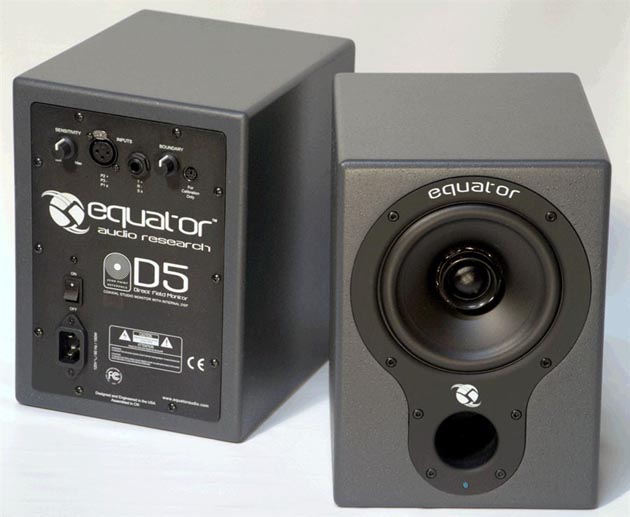 Most moderately priced monitors are voiced for consumer excitement. The low end is extremely boosted and the high-end is extremely boosted, resulting in a smiley face frequency curve that leaves a hole in the mid-range. Manufactures have done this because it is fairly easy to accomplish and, conveniently, in a store demo situation the speakers "cut through". During recording and mixing, however, the mid range has proven to be the most critical area. If the monitors lack mid-range detail the resulting mix will not translate appropriately and may allow some mistake or "rub" to make its way unnoticed to master.
To achieve extensive mid-range detail the D5 shares much of the acclaimed Equator Q Series technology. Like all Equator 2-way active monitoring systems, the D5 employs a Zero-Point Reference™ coaxial design with internal DSP handling numerous tasks, including matching the Digitally-Controlled Transducer's™ output and the ability to apply pin-point accurate voicing.
With the highly successful professionals of the Equator Technical Advisory Committee aiding in the feature selection, performance specifications, voicing considerations and translation evaluation there is professional confirmation that the D5 delivers a high level of professional performance.
The tiny D5 features a coaxially designed 5.25" woofer and center mounted 1" silk tweeter in an all wood cabinet. The newly designed digital amplifier boasts extremely low distortion specs and delivers 2 x 50w of peak power. SPL is rated at 103 dB combined @ 1m.
The introductory price for the D5 is under $300 per pair, Equator has developed an online store.