For their 2011 Summer tour season, dubstep supergroup Magnetic Man turned to Focusrite and Novation to supply software controllers and audio interfaces for their three laptop systems. They chose Novation's flagship Zero SL MkII USB/MIDI controllers and Focusrite's recently announced Saffire Pro 14 audio interfaces.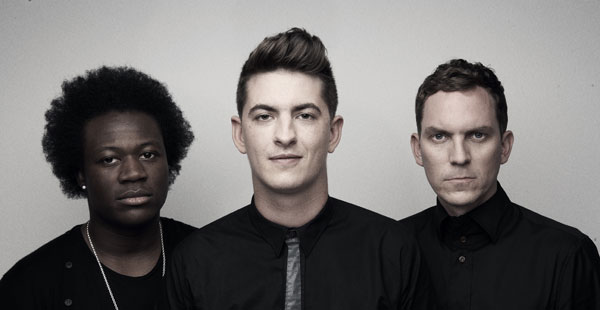 From humble beginnings in Croydon, South London, the trio of Artwork, Benga and Skream built the foundations of one of the mightiest dance music collectives of the 21st century. Magnetic Man, as they became known, are at the forefront of the dubstep sound, originally making beats that mainly got plays on pirate radio stations and mixtapes. That's when dubstep was underground.
Now, with the genre engrained in the psyche of popular culture, Magnetic Man sell out tours and perform at festivals around the world. Each of the members has a Zero SL MkII at his fingertips, providing full control over Ableton Live, and all three of their laptops run Saffire Pro 14 audio interfaces, providing unsurpassed audio quality.
Making the transition from studio to stage required lots of effort. Artwork explains how they put together their live setup. "We've got three laptops, all linked together. One's got bass, one's got drums, one's got top lines, and the effects are split between them."
With three identical MacBook Pros running Ableton Live, Novation's feature-packed Zero SL MkII controllers were the obvious choice to provide hands-on control of their sounds. With an array of touch-sensitive faders, knobs and buttons and a bright display that adapts to show the parameters currently in use, Artwork, Benga and Skream can control all elements of their session from one surface.
The choice of audio interface was critical, too. With Magnetic Man playing on giant stadium sound systems, their audio has to be crystal clear to make the most impact. So they chose to use Focusrite Saffire Pro 14 interfaces. "It's a nice little setup," Artwork remarks. "In our old setup, we used the original Focusrite Saffire interfaces, and they worked really well for us. We upgraded to the Pro 14s and were blown away with the sound quality. I can't fault it."
The flexibility that the new Magnetic Man live rig provides allows Artwork, Benga and Skream to manipulate individual channels in the track they're playing. "If you've got the drums at that point, you can filter them, you can choose if you want sections longer, you can repeat things, you can add loads of effects, you can switch to another beat; you can do whatever you want to do really. It's endless."
Magnetic Man recently played at London's iTunes Festival at The Roundhouse, Camden. Visit this page, where you can watch the entire show.