MOTU is now shipping MachFive 3.0, a major upgrade to their universal sampler for creative music production. Rebuilt from the ground up, version 3.0 includes a new user interface design, an extensive 45 GB sound library, seven signature instruments based on new scripting technology, a new hybrid synthesis engine, licensed algorithms from the IRCAM research institute, and many other new features and enhancements.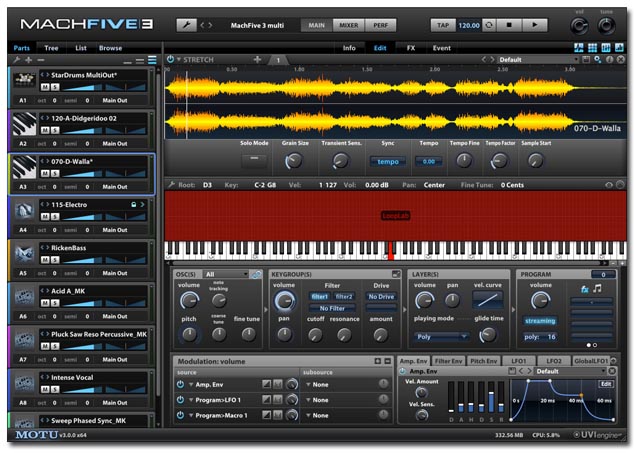 "With exciting new features and unified, cutting-edge technologies, MachFive 3 achieves our goal: to deliver an inspiring creative sampler and sound design tool for musicians, producers, engineers, DJs, remixers, and sound designers," said Jim Cooper, MOTU Director of Marketing.
MachFive's signature instruments set a new standard for virtual instrument realism and ease of use:
Telematic™ — a dynamic recreation of the Fender® Telecaster® electric guitar with 9500 samples, five velocity layers, four round robin samples per note, separate up and down strokes, hammer on, pull off, slides up and down, mutes, fret noises, chord recognition, strumming engine, chord sequencing, automatic hand position, and solo mode string detection.
Star Drums™ — a complete drum set in both acoustic and processed versions with multiple mics, mixing, adjustable sample cycling, and easy setup with support for General MIDI and other industry standard MIDI controller mappings.
J-Bass™ — a deeply sampled and scripted electric bass with a variety of playing techniques, including finger and pick (with or without muting from the right hand), legato, hammer, and slide.
The Upright™ — a world-class acoustic upright bass supplied with multiple miking positions and many playing techniques including hammer, slide, legato, slap, release volume, and sensitivity.
F Grand 278™ — expertly crafted Fazioli concert grand with release volume, pedal volume, key noises, resonance volume (the sound of the body of the piano), room ambiance (convolution), velocity sensitivity and velocity amplification.
Mark 79™ — richly-sampled classic Fender® Rhodes® Mark II suitcase piano from 1979, including 2500 samples across ten velocity layers with time-based release samples for accurate staccato, resonance, effects such as tremolo and spring reverb, and adjustable key and pedal noise.
Percussiv™ — a comprehensive latin/world percussion set with both General MIDI and default mappings.
Additional MachFive 3 Feature Highlights
LoopLab™ — An advanced slice loop editor that supports REX, ACID, UFS, Apple Loops, and custom loops.
Universal 3rd-party sample library support – Directly reads all major 3rd-party hardware/software sample formats and sample discs (Kontakt, Giga, EXS24, HALion, Kurzweil, Akai, Roland, Ensoniq, Sample Cell, and many others) with no conversion, for consolidated sound library management.
Complete mixing – Graphic mixer with faders, FX inserts, and unlimited channels.
New Xpander filter — Based on the venerable Oberheim Xpander, this new filter provides 37 modes, each a separate filter in its own right.
IR Verb™ — A CPU-efficient convolution reverb processor that provides hundreds of presets for acoustic spaces, classic high-end studio reverbs, vintage plates and spring reverbs, plus eclectic impulse responses for sound design. Drag and drop your own IRs, and you can even edit IR waveforms directly.
Drag and drop operation — Supports easy drag and drop importing of audio files, loops, and samples to and from the computer desktop or a host software application.
Multi-sample import — Drag and drop multiple samples in one operation to map them intelligently into layers or splits. With straightforward sample-naming conventions, hundreds of samples can be precisely mapped in seconds with a single drag and drop operation.
Multiple outputs – Submix to 17 stereo output pairs.
Unlimited polyphony – Includes ultra-low software latency.
System specs, availability, and pricing
MachFive 3.0 supports Mac OS X (10.5 or later) and Windows 7/Vista. It operates stand-alone or as a plug-in (AU, VST and RTAS). 64-bit operation is available for supporting systems and hosts.
MachFive 3.0 is now shipping. Price remains the same at $495. Registered version 1 and 2 users can upgrade to version 3 for $179. A competitive upgrade is also available, with proof of ownership, for $295.