Native Instruments informed us of the release of a whole bunch of new goodies. The next version of their Kontakt software sampler and Guitar Rig effects software. Next to this they released another drum instrument/collection, an effect processor (Transient Master) and even a complete mixing effects rack (Solid Mix Series).
Here's the official statement by NI:
Native Instruments has just released five products that further expand its versatile range of KOMPLETE Instruments and Effects. The new products include KONTAKT 5, GUITAR RIG 5 PRO, STUDIO DRUMMER, SOLID MIX SERIES and TRANSIENT MASTER.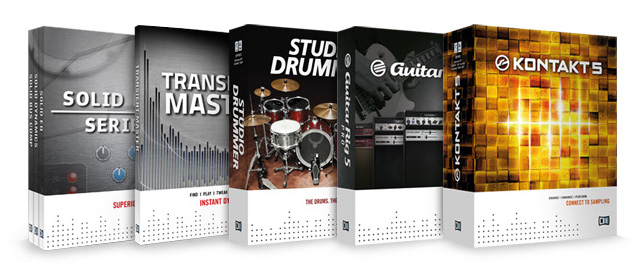 KONTAKT 5 is the next generation of the leading software sampler. The new version offers profoundly
enhanced sound shaping through a host of new high-quality filters and studio-grade effect algorithms, superior time-stretching, vintage sampling modes, and more. Further accommodating its role as the central sample library platform on the market, KONTAKT 5 also introduces major new features for advanced instrument design.
GUITAR RIG 5 PRO is the latest version of the versatile effects studio. The fifth generation expands the comprehensive feature set of the software with additional amplifiers and effects, advanced speaker emulation, and various new creative features that make GUITAR RIG even more powerful both for studio production and live performance.
STUDIO DRUMMER is a new instrument for the efficient creation of studio-quality acoustic drum tracks. By combining premium sampled drum kits and a comprehensive studio-grade mixing environment with a wide assortment of professional grooves, the KONTAKT-based instrument provides a highly versatile and easy-to-use "virtual drummer" that gives authentic and fast results for pop, rock, metal, jazz and related music styles.
The new SOLID MIX SERIES emulates the distinctive EQ and dynamics sections of one of the most revered mixing consoles of all time, while TRANSIENT MASTER recreates a popular hardware processor that provides highly efficient transient processing. Both products can used be used with the free GUITAR RIG PLAYER, or expand the arsenal of the GUITAR RIG 5 software.
All new KOMPLETE Instruments and Effects are available now for individual purchase, and are also included in the new KOMPLETE 8 and KOMPLETE 8 ULTIMATE bundles (SOLID MIX SERIES only included in KOMPLETE 8 ULTIMATE).
Pricing:
– KONTAKT 5 $399 / 379 EUR
– GUITAR RIG 5 PRO $199 / 179 EUR
– STUDIO DRUMMER $169 / 149 EUR
– SOLID MIX SERIES $229 / 199 EUR
– TRANSIENT MASTER $119 / 99 EUR