MixVibes believes that preparation is one of the keys to a successful DJ performance. They have therefore improved the design of our collection tool and the media management systems in CROSS. It has never been so easy to get started and mix like a professional!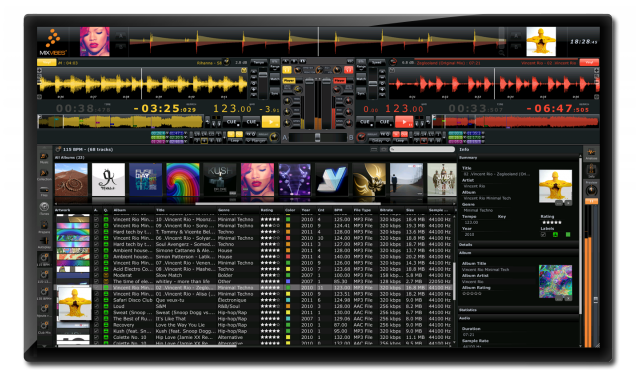 The media browsing section, located on the left dock, is now fully customizable in order to quickly reach your tunes or playlists. We've created a new album navigation system for quick visual searches and freely browsing
through your collection. You can operate these tools using a keyboard or a controller and enjoy the new multi-criteria search engine to find something specific in no time.
CROSS COLLECTION includes a brand new playlists management feature. You can use the prepare tab to label and choose what tracks you would like to play during your gig. The history function allows you to keep track
of all the tunes and sessions that have been played on CROSS. You are now able to go back to the highlights of your performance and keep a precise track list record.
CROSS COLLECTION features a one-of-a-kind playlist tool called SmartLists. This powerful tool uses a custom search filter that automatically sorts your tracks into playlists. Choose from over forty criteria that will define
the best your playlist (BPM, genre, year …). These playlists are dynamically updated when new music is added in the collection.
CROSS COLLECTION makes the media management easy by allowing edits on the fly of all the tracks information (tags). You can also label your songs with colored markers for DJs with a photographic memory and use colors as a search criteria. Last but not least, don't ever pollute your mix with media of poor quality. CROSS COLLECTION includes a visual indicator of the media quality based on the bit rate.
In short, the new CROSS COLLECTION not only maintains a high end Digital DJing software but pushes also the limit of comfort, ease of use, and quality even further.
A lot of new features for the collection and media management:
– Fully customizable media browsing section
– Album cover navigation system for quick visual search
– A "prepare" tab to label and choose medias
– History function to keep track of all the tunes and sessions
– Smarts playlists with custom search filter, dynamically updated when new music is added in the collection
– Visual indicator of the media quality