Stanton released a notice that their latest DJ controller, the SCS.4DJ, is now worldwide available. Our review controller has arrived already at our 'tech lab' and we will publish a review in the near future. Below is the official press release by Stanton Magnetics.
Stanton is pleased to announce that its innovative Stanton Control System®4DJ (SCS.4DJ) Fully Integrated Digital DJ Mixstation is now shipping worldwide. With the SCS.4DJ, Stanton has developed a single integrated product that contains all three of the key components DJ's need to perform — software, computer and controller — in one system. Now available in all regions, beginner DJs and pros alike can enjoy the unprecedented user experience the SCS.4DJ provides.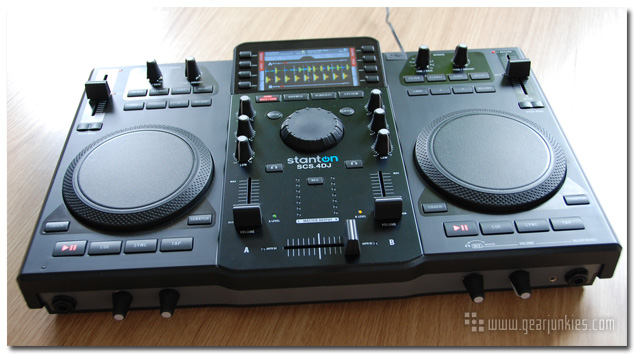 Professionals like DJ Freddy Fresh, one of the most active and prolific American underground dance music artists, are already experiencing how the SCS.4DJ can provide professional functionality while still being accessible to those new to the game. "I was actually frothing at the bit, just jumping around and waiting for [the SCS.4DJ] to come out," says Fresh. "I don't like bringing a computer to gigs. With the SCS.4DJ you have a USB flash in your pocket and you're ready to go. I've been using it to do tricks and scratching, and I just love it. Another killer feature is the ability to record your scratches, your set — everything."
Taking a fresh design approach, the SCS.4DJ was developed with an internal processor that makes fully standalone operation without the use of a laptop a reality. All users have to do is add their own music from their hard drives, media devices or smartphones and they'll be ready to go. At the push of a button, the SCS.4DJ's advanced automatic synchronization feature keeps tracks in beat so that users can focus on being more creative. The advanced tempo and beat grid calculation also allows the SCS.4DJ to be placed into "Auto-DJ" mode, where the unit will automatically mix the music from a playlist with full tempo matching and crossfade transitioning. For those looking to produce their own mixes or compilations to distribute or share online, the SCS.4DJ allows immediate recording at the touch of a button.
A software update is now available to download from the Stanton website, Stanton – DJ Equipment, DJ Gear, Phono Cartridges & Needles, DJ Mixer, DJ Turntables, Headphones, CD Players, and offers several new capabilities and options for this revolutionary unit. The following new features are included:
· Beat Grid Shift: Allows the user to shift the beat grids created by the SCS.4DJ to a user-defined cue point. This enhanced grid control helps to improve mixing by ensuring tracks are not only aligned by beat, but by phrase/bar.
· Manual Filter Mode: This new mode enables the filter to be used with zero modulation, adding a more traditional filter performance.
· Increased Filter Frequency Cut: With this increase the left/right sides of the frequency/amount knob now provide a complete frequency cut.
· Updated Flange Effect: The Flange effect now has a more "musical" quality, providing an effect that is more useable in a wider variety of situations.
· Editable On-Screen MIDI Mode Text: This new feature offers users the opportunity to display and edit on-screen text to reflect their custom MIDI mappings.
· Expanded file support: The new release includes new import filters to handle poorly encoded MP3s and AIFF files.
· Auto-DJ Mode: Improved handling of user-made pitch changes and more robust playlist support.
Finally, for those looking not only to customize their mix but the actual look of their SCS.4DJ unit, fully-customizable StyleFlip skins are now available to order from the Stanton website. A new accessory carry bag for the unit is also available for pre-order, making it easier than ever to bring the party anywhere.