If there is a electronic music genre that's becoming more popular by the month then it is surely Dubstep. Sonivox acknowledges this trend with the release of their Dubstep Grime Generator – Wobble! New technology synthesis engine that is coupled with pattern sequencer modulation control serving up the first virtual instrument dedicated to Dubstep production.
SONiVOX, Boston MA, based award-winning music software company today offered a pre-release preview complete with MP3 and Video examples of the newest instrument from their NEMESYNTH Audio Research Group, Wobble – Dubstep Grime Generator.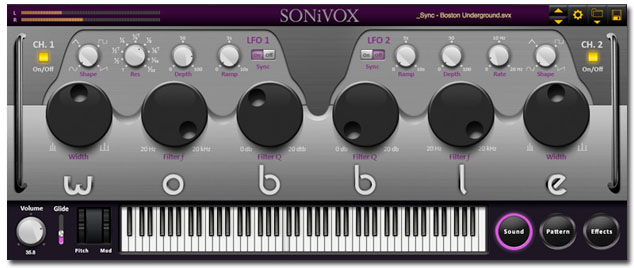 Premiering the next generation of the spectral synthesis engine that powers SONiVOX's TWIST and VOCALIZER, Wobble offers up a whole new control paradigm designed to deliver time/pattern-sequencer control over modulation parameters. This results in unmatched control and flexibility in creating new, unique, and evolving sounds, perfect for dubstep as well as most other electronic music creation.
Wobble features:
– New Spectral Synthesis Engine creates traditional or blazing new dubstep sounds
– First of its kind Tempo-Synced Modulation Generator/Sequencer
– Over 200 fat & juicy dubstep presets that can be easily tweaked into thousands
– New interface design for seriously fast and easy sound designing
– Fully automatable via hardware or software control
– SONiVOX's Intelligent Rhythm Control (I.R.C) putting your performance in perfect time in realtime
– Onboard chorus, tempo sync delay, and reverb fx
– PC Standalone, VST and RTAS Compatibility
– MAC Standalone, AU, VST, and RTAS Compatibility
Wobble marks the third release from SONiVOX's NEMESYNTH Audio Research Group. Spearheaded by noted audio guru and scientist Jim Van Buskirk, pioneer inventor of the virtual instrument, modern computer driven sampling, and real-time low-latency convolution, SONiVOX's NEMESYNTH Audio Research Group's sole purpose is to discover, research, & develop revolutionary new enabling technologies for musicians everywhere.
Wobble – Dubstep Grime Generator is MAC & PC compatible and will work with most major DAW software as a VST, AU, and RTAS plugin.
Wobble – Dubstep Grime Generator is slated for a release date of October 1st 2011 with a MSRP of $149.99 and an estimated street price of $99.99
SONiVOX claims that Wobble must be heard to be believed and invites all to checkout the Wobble videos and mp3 examples at www.sonivoxmi.com