Arturia has revealed new details about its highly anticipated software synthesizer: the "Oberheim SEM V". Ahead of the official release, planned for December, Arturia has exposed the detailed features, graphic interface and the first exclusive sound demos on its website.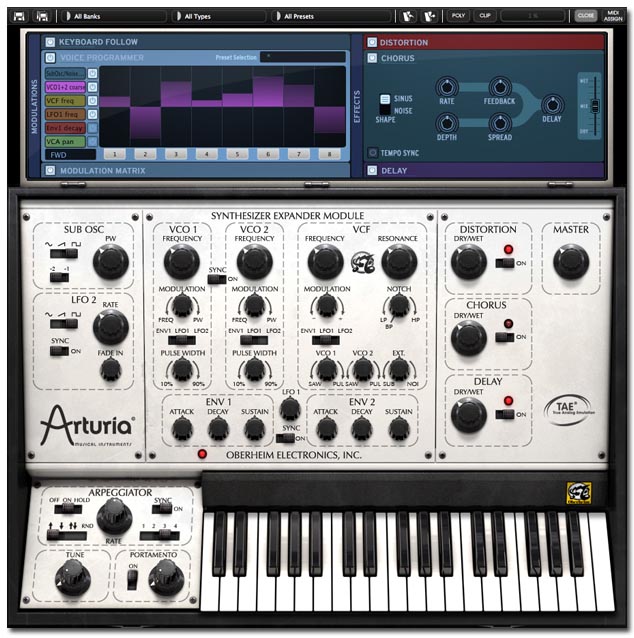 Not only the Oberheim SEM V, powered by the latest innovations in Arturia's TAE® technology, is a faithfull recreation of the original, but it will also benefit from polyphony, 8 voice multitimbrality and new innovative modules such as the Voice Programmer, the Advanced Keyboard Follow and a Modulation Matrix.
MAIN FEATURES:
• All the original parameters of the Oberheim SEM : two oscillators, each offering sawtooth wave and
variable-width pulse wave with PWM, sine wave LFO, 12dB/oct multi-mode Filter with low-pass,
high-pass, band-pass and notch, two ADS envelopes
• Added functionalities : New LFO, Noise, Sub oscillator, on board effects (distortion, chorus and
delay), Arpeggiator, Portamento
• Polyphony and 8 Voice Multitimbrality
• New 8-voice Programmer module
• Advanced Keyboard follow module
• Modulation Matrix module
• Works in Standalone, VST 2.4 & 3, 64 bit & 32 bit, RTAS and AU 32 & 64 bit formats
• Compatible with Windows (XP/Vista/Seven 32 bit and 64 bit), Mac OS X (Mac OS X 10.5 or higher,
Intel only)
MSRP: USD 249.00 / EURO 229.00 – Shipping December – Check out the Arturia website www.arturia.com for more information.