The Reloop RMP-2.5 Alpha is the latest member of Reloop's RMP-series and a true cross media player with additional MIDI function. Besides playing current audio formats such as WAV and MP3 from CD, CD-R, memory stick or hard disk drive, it is also possible to control any MIDI compatible DJ software (for example Traktor) thanks to the RMP-2.5's full MIDI compatibility.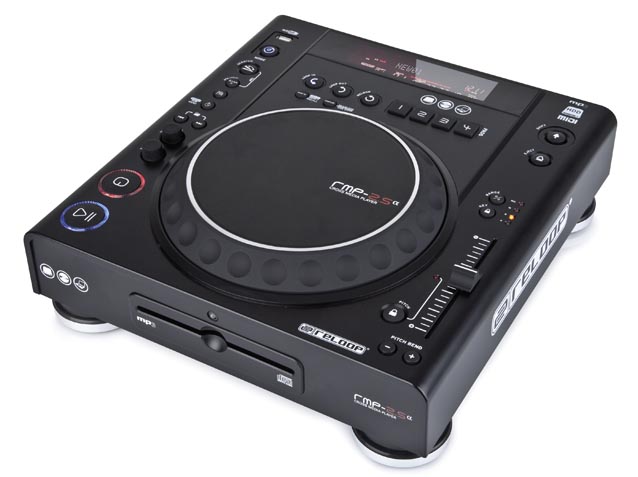 All the user interface's control elements send out MIDI commands; this way this media player becomes the perfect controller for mixing softwares. Via the shift function all control elements are double assigned with MIDI commands which makes it possible to control two virtual decks with only one RMP-2.5 Alpha. The assiggnments can be stored as MIDI presets for various purposes. No matter whether audio or MIDI, with the large, touch sensitive jog wheel, the control feeling is always vinyl-like and literally invites you to scratching and beat juggling. Its high-resolution micro pitch of up to 0.02% allows pitch adjustments and bending with the highest precision. The shockabsorbing bearing of the device's feet, as already known from the RMP-3, secures the RMP-2.5 from getting out of place.
Moreover, the RMP-2.5 disposes of some new cool features: In order to play music from one USB source on two players the RMP-2.5 Alpha comes with the possibility to be connected to a further RMP-2.5 Alpha via USB audio link. Also you can use the Data Base Builder software to analyse the desired USB drives, thus obtaining quicker and filtered results. Another very convenient feature is the Next Track function: During playback you can already select the next track. As combination of CD/MP3 player, USB mass storage media player and MIDI software controller, the Reloop RMP-2.5 Alpha is up to all requirements of modern DJ business.
Features
– Professioinal cross media player and software controller
– Play CDs & MP3 disks, connect USB sticks & hard drives and control software
– USB Audio Link: Connect two RMP-2.5 Alpha players to play music from one USB source
– Search/Filter Function: Track filter search via various criteria such as title, artist, album or genre
– All control elements are MIDI compatible (25 buttons, 1 turning knob, 1 push encoder, 1 fader, 1 jog wheel), double assignment via shift function
– MIDI presets selectable
– Several RMP-2.5 Alpha can be linked for MIDI control
– USB 2.0 port for connection of hard disks, USB sticks, etc.
– Seamless loop function / reloop function
– Automatic and manual beat counter
– Touch-sensitive, two-part jog wheel
– High-end scratch simulator with return-to-cue function
– 4 independent 5 sec. sample banls (pitchable)
– 4 independent cue point banks
– ID3 TAG support
– Track and folder search
– Especially bright DotMatrix VFD display for all functions
– Especially long pitch fader (can be switched off)
– Adjustable pitch range (+/- 4/8/16/100%)
– Micro pitch with a resolution of up to 0.02%
– Pitch Lock and Master Tempo
– Pitch bend of up to +/-100%
– Auto-cue
– Frame search
– Instant start via 1 bit technology (8 fold)
– Playing address
– 10 sec. anti-shock memory
– Elapsed/remain time display
– Sleep function
– Slot-in loading mechanism with illuminated display
– Shock absorbing feet bearing
– Instant playback from cue point
– Relay play
– Fader start play
– Headphones output
Technical datas
– D/A converter: 8 fold/1 bit
– Dimensions: 322 x 112,6 x 340 mm
– Weight: 3.6 kg