Native Instruments is not really a stranger to manufacturing audio interfaces, as they have done for their DJ software Traktor. Now they have released an audio interface for producers too: Komplete Audio 6 Audio Interface.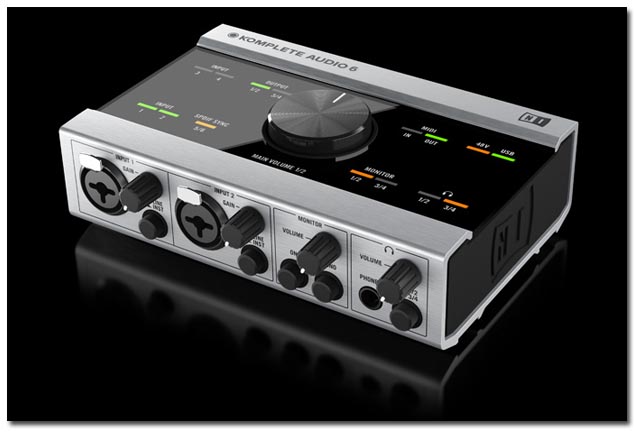 This compact audio interface has the same aluminum housing as the DJ interface for Traktor. It feels robust and solid, not too small, so it's well suited for studio or even stage. The interface is powered by USB, so you don't need an extra power supply.
Audio IN/OUT
The Komplete Audio 6 has four balanced jack OUTs and four INs through combined jack/XLR connections. There's also a SPDIF I/O and a headphone OUT with volume setting as well. The headphone OUT is switchable to channel 1-2 or 3-4. Setting of this routing is done on the interface itself, you don't need a software editor or adjust settings within your DAW. Therefor I think this interface would perform great on stage.
You can also use the headphone OUT as a stereo OUT, so in fact you'll have three stereo outputs. This means that any DJ that also produces (or the other way round) could use the Komplete Audio 6 together with Traktor Duo or any other DJ software.
Another fact that pleased me when working with the Audio 6 was the fact that Native Instruments didn't forget the MIDI users, so a MIDI IN/OUT is present too. I connected one of my synths and needless to say it worked perfect. As I often say, you can't go wrong with MIDI!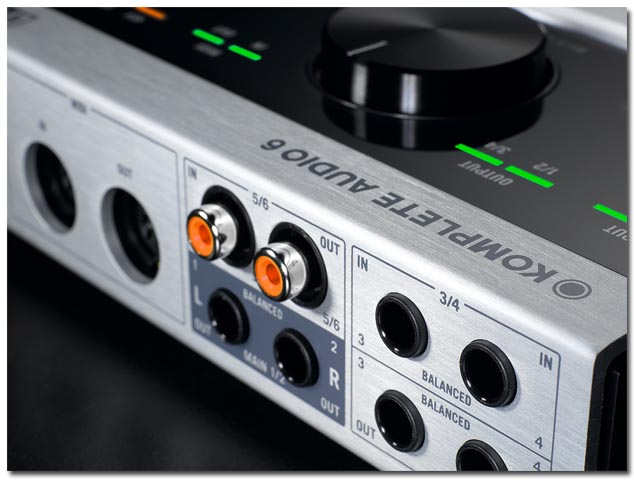 Monitor Knob
Striking feature of this audio interface is the large monitor knob on the top. This knob will function as a monitor controller and is very useful in a studio environment. You can mute the monitor signal with just one push and also turn the signal into mono. Useful if you want to check your mix. Because of the four OUTs, you'll have two for you monitors and two for an external mixer or a second pair of monitors. This makes this audio interface very flexible.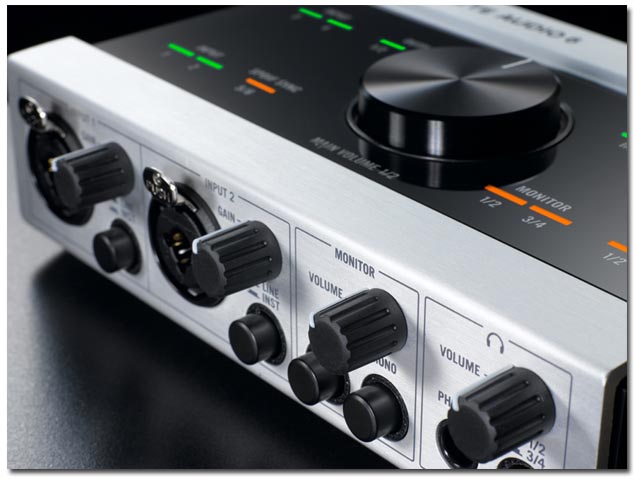 Installation
Time to hook it up to a computer. I have used it with a Macbook and a Win7 PC. To be short: With MAC Osx you don't need any drivers and installation on the PC took me about two minutes. It installs the audio and midi drivers immediately.
The Sound
The sound quality and latency are good, if not, just perfect. I noticed it gave me a slight higher output then my MR816 audio interface, which is nice when used live on stage. Maybe because NI has experience with DJ interfaces you recognise this usability for live performers as well. In my test I have recorded synths and vocals, and I can comfortably say that the pre-amps do a very good job. However, if you turn up the gain a bit too much the interface can distort a bit. But if you take that into account when using, you'll be fine.
Free Software
The Komplete Audio 6 is shipped with a free version of Cubase LE 5 and Traktor LE 2, as well as a version of Komplete Elements. This package will give you over a thousand direct usable sounds.
Verdict
If you are looking for a compact audio interface for your studio with monitor control (and one that you can use as DJ interface as well), you'll definitely won't go wrong with the Komplet Audio 6. This opinion is supported by its price (277 Euro). With the purchase you'll get an e-voucher for more sounds worth 25 Euro. Overall I really have to think and search hard to find anything negative about this interface. And to be honest, again in my opinon, there aren't any negative points.
Marc van den Hurk
We like to thank Native Instruments for their cooperation.