IK Multimedia has established a good reputation when it comes to innovative products for the iPhone and iPad. Just think of the iRig, iKlip and the iRig Mic. This last one, iRig Mic, we have tried out at this year's MusikMesse. To our great satisfaction we might say.
iRig MIDI
Now there's the iRig Midi, a device for your midi instruments. This small device connects any Midi instrument like your synthesizer, sequenser, digital piano or even a Midi interface with your iPhone or iPad, so you can integrate iOs apps with your stage setup or studio. The iRig Midi is compact and has two din-5 Midi plugs, one IN and one OUT. With these you can connect any MIDI device. It will work with any app that supports core Midi within iOs5.
Midi Thru
What makes this iRig Midi special is that it not only has a Midi IN and OUT, but also a Midi Thru. This makes it very useful in any live setup where there is no Midi interface available, or if you want to connect your synths, for example, without a computer.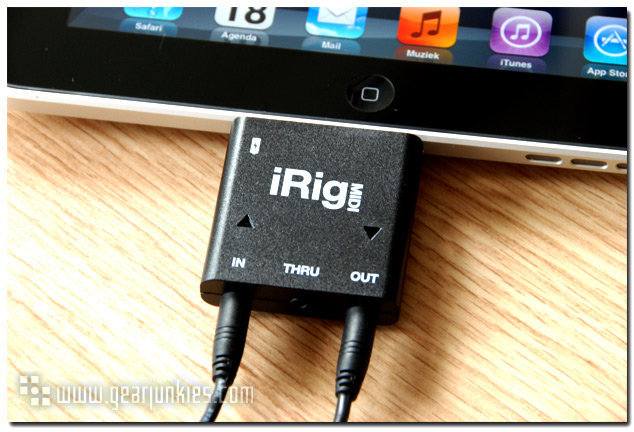 IK Multimedia often provides free apps, and this time as well. With the iRig Midi you'll get a free Midi Recorder and a free Sampletank version, an app for creating music. Sampletank has standard hundreds of sounds and patterns of instruments, which you can play of course with your Midi keyboard using the iRig Midi!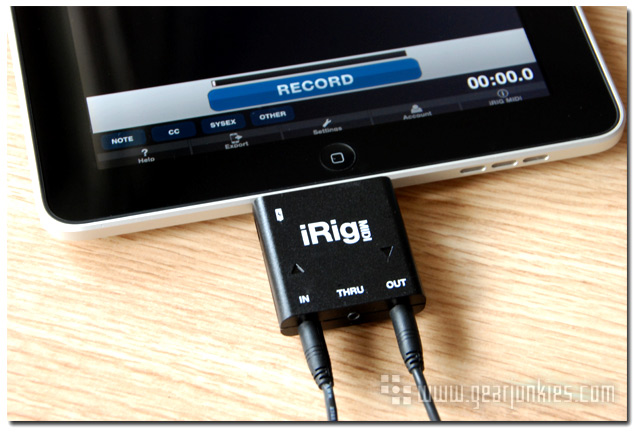 Verdict
Personally I am very fond of the Alesis iOdock, but for use 'on the road' I can definitely recommend the iRig Midi device. Now I can imagine what you are thinking: "… yeah but, it's the same as the Line6 Mobilizer device!" Well, that's not completely true. I do own the Line6 device as well, but I prefer the IK Multimedia device because of the Midi Thru option!
The iRig Midi device is priced at 54 Euro and that's a 'hefty' price but for anyone looking for a good integration and use of iOs apps within your on-stage setup and/or studio worth every penny (euro!).
Marc van den Hurk
Thanks to Jan van der Gaag for the review unit.