The PC3K series has now been expanded with 76 note semi-weighted (PC3K7) and 61 note synth-action (PC3K6) versions, joining the existing 88 note hammer-action PC3K8. The Kurzweil PC3K series is the pinnacle of the PC3 line, bridging the gap between Kurzweil's successful K series workstations and present PC3 innovations.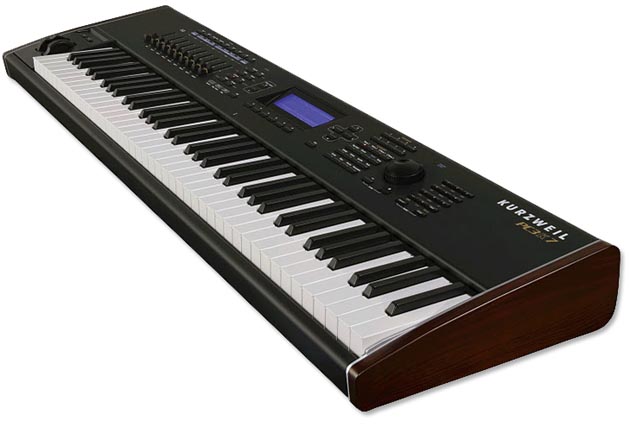 The PC3K series, already loaded up with the many impressive features and sounds of the PC3, allows users to tap into the massive wealth of samples and programs developed for the legendary K Series over the past two decades. Capable of loading .KRZ/25/26 sample files, WAVE and AIFF files, as well as most of the K Series programs and setups, the PC3K presents a whole new world of choices to players.
You can choose to delve into the extensive libraries of existing K Series samples or decide to fill the PC3K's flash memory with your own signature samples. In either case, you'll have the most powerful version of Kurzweil's V.A.S.T technology ever developed at your fingertips to help sculpt your sounds and attain a level of detail and expressiveness truly worthy of your music.
Sample files can be loaded via USB from a thumb-drive or directly from a computer.
Features at a Glance
• Flagship of the PC3 series with K-Series sample compatibility
• 128Mb reloadable, non-volatile memory
• Loads legacy files from the K2000, K2500 and K2600 keyboards
• 76 note semi-weighted action keyboard with velocity and aftertouch on PC3K7
• 61 note lightly-weighted synth action keyboard with velocity and aftertouch sensitive keys on PC3K6
• 128 voice polyphony, 16 part multitimbral
• Dynamic VAST synthesis engine, with user programmable DSP algorithms and routing
• 850 new factory presets, 64+ new KB3 organ programs
• 16 insert effects distributed over 11 busses, two auxiliary sends and two master effects
• MIDI over USB, XD flash card slot