Once in a while it takes a bunch of courageous people to come up with something completely different even though it doesn't seem viable. The OP-1 is just such a thing. Looking like a toy and not like an instrument yet if you take a closer look it actually is. At first it reminded me of the Casio synths that were quite popular a century ago. Is the OP-1 the 21st century version of the Casio? Not really, but it takes some time to explain this because the answer is quite elaborate.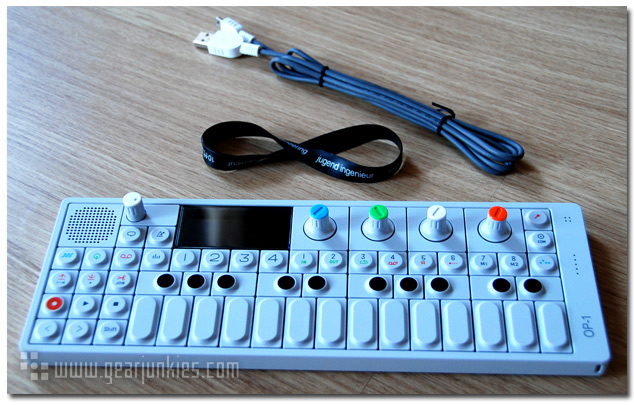 Design
At first glance you immediately see that it has a very distinctive look but also the way the buttons and knobs are positioned it seems to have a reason. 4 parameter pots, mode selection buttons, edit buttons, option buttons and a shift button to extend more functionality. Same goes for the color display, speaker, microphone and on off switch. It has just the mini jack input, output and mini USB connector.
When you get it out of the reusable paper foam box you notice it doesn't have an adapter or manual. Just a plastic overlay and an USB cable. One a side note a reusable paper foam box doesn't make sense when the device itself isn't fully recyclable and even has a battery inside containing heavy metal. And even though the aluminum body makes it feel extremely sturdy it's not environmental friendly at all. The battery itself doesn't seem to be easy exchangeable which could prove to be a problem on the long run. But that's just me nitpicking away.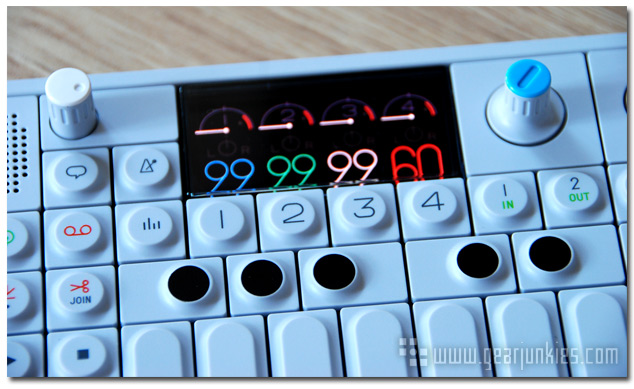 Modus operandi
The OP-1 isn't just a synthesizer with 7 synth engines, sample based drums kits but also a 4 track recorder with tape like functions and a sampler (or a memo recorder). If you connect it with the USB to a computer it also can function as a midi controller. So this small device packs a lot inwards. Let's have a look at that.
Synth engines
Currently there are 7 synth engines and sample playback available. These may be extend to more models with future upgrades. I've taken their descriptions from the website because they described it pretty well.
Dr Wave – Raw 8-bit yupe sound engine
FM – Easy to tweak FM synthesis engine
Pulse – Square wave type engine
String – Physical modeling with a twist
Digital – Raw digital type of engine
Phase – Phase distortion engine
Cluster – Multiple Wave Cluster
Sampler – Sample playback from presets or recorded samples
Each type has its own distinctive graphic user interface and sound. And even though the parameters are quite limited there is enough to program with and get very interesting sounds. Even though it is basically a virtual analog synth the sounds are rich and you don't notice an apparent digital sound to it. It more has a gritty and dynamic sound which has a lot of character to it which can compete easily with any other VA synth out there. The sampler has some user samples you can replace if you like to. On top of that add an FX to it and you'll expand the sonic realm even more.
There are 5 effects
Delay – Classic delay type
Phone – Hacked phone effect
Punch – Adds punch to your sound
Grid – Grid based echo
Spring – Spring reverb type
Just like the synth engines these effects have a distinctive look and sound and if you start pushing them you will end up getting very freaky sounds that can be very inspiring. On top of that you can use the extra LFO to get even more out of it.
There are 4 LFO types
Element – Use 3 axis motion sensors to assignable value
Random – Random mode with various speed and amplitude
Tremolo – Pitched mode with various speed and amplitude
Value – Assignable value with various speed and amplitude
With this LFO you can give the sounds some motion and add even more character to them. It doesn't take much time to get something glitchy or melancholic. The element LFO is just freaky though. With the device hooked up to the rest of your setup it's not that practical to shake it like your some kind of epileptic. But it can be fun.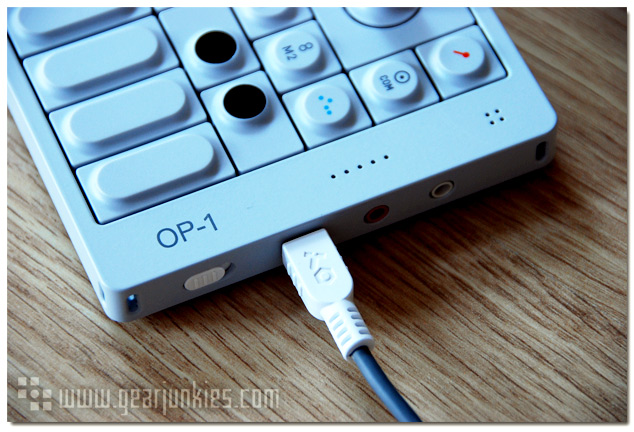 Sequencer/arpegiattor
Endless – Step sequencer with even amount of steps you can record
Pattern – Pattern sequencer with even amount of steps you can record
Tombola – Octagonal spinning with notes as blue dots are bouncing around
The tombola is pretty weird option and hardly useful for anything about chaotic soundscapes. But like said before this is a freaky device. On the plus all the sequenced notes are output as midi so it's quite useful as a quick arp tool to put down baselines or melodies. Using the arp also can help as creating a quick and easy backup track for the tape recorder.
Drum Kits
The drum kit consists of 24 slots one for every key for a sample to be played with the source a long sample consisting of either separate drum sounds or a drum loop. Every slot has its own start, stop, loop start, stop points and looping mode as well as pitch and level. On top of that every slot has its own FX settings as well. There are 8 different drum kits and you can customize your own if you like to. The kits sound quite gritty and pretty dynamic as well. It's like they beefed it up a notch.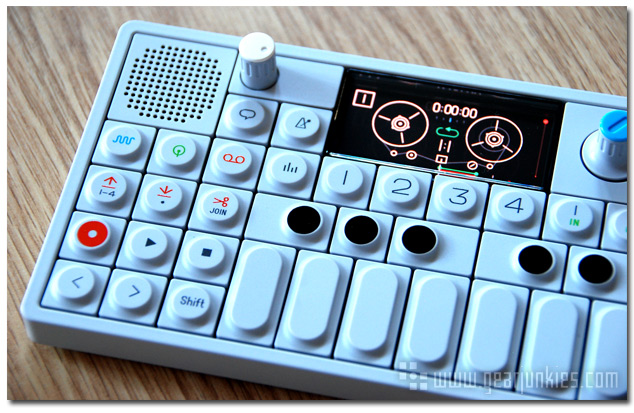 Tape Recorder
This features a 4 tracks recorder with tape recorder like features. Variable speeds, reverse recording, tape editing, looping up to 6 minutes in normal mode or 24 minutes in low speed mode. Because the display is quite limited getting to learn to work with the tape recorder will take some time to get used to. But the basics remain simple and your creativity will be tested once more.
Because most time related parameters are synced to a general BPM setting you can adjust tempi by changing that BPM. Even in relation with the tape speed of the tape recorder.
Album Recorder
They call it an album recorder but I guess it's a stereo mix controller to record your mix on track A or B. You then can export that track as an aif wave file to your computer and do whatever you like to do with it.
Sampler
You can sample sounds by recording with the onboard mic, stereo input, stereo output or even a FM radio input. If you use the onboard mic rubbing your finger over it sounds a lot like scratching. Being able to record the output also enables you to overdub tracks and create an entire number on it. The first Beatles album was recorded on a 4 track recorder that wasn't as sophisticated as the OP-1. And the FM radio? It gives away that the internal guts of this thing is based on some smartphone chipset.
Before sampling you can adjust the input signal as well as adjusting the trigger so it starts sampling at a threshold. After you sampled something for a few seconds like e.g. your own voice you jump to the sampler synth mode where you can adjust the start and stop points as well as the loop start and loop end points with the 4 parameter knobs. But when you choose another sampler preset from the list you'll lose your just recorded sample and I couldn't get back to that. So you'll have to learn to be cautious with that.
USB Functions
When hooked up to a computer (PC in my case) it installs the midi drivers automatically. You also can switch to dedicated midi controller mode or in data mode to change audio files for your samples, kits, tape tracks and album tracks. All files are in aif format btw so it's extremely Apple friendly but with a decent audio editor you can read and write aif audio files on your PC as well.
And if you don't like to play the keyboard of the OP-1 you can use the OP-1 midi out in your favorite DAW/Sequencer to hook it up to some other master keyboard. Too bad you can't sync the midi with midi clock or midi time code but who knows if they will incorporate it in the future.
Verdict
So much for the elaborate answer. The OP-1 may look like a puny toy but its packing a hell of a punch and the tiniest workstation I ever saw. You may argue that it's expensive but I would say at 799 euro its pricey and not expensive. The device itself is build like a tank and should be a joy to operate for decades to come because its concept is timeless. I'm not certain if in ten years the batteries of this device need replacement and that they would still be available though.
That it comes without printed manual is a bit disappointing but then again the plastic overlay is sufficient to learn it fast if your used to synths and computers that is. Another weak point would be that Teenage engineering is promising extra features in future updates. It could use some minor updates and upgrades but as it is the OP-1 is ready to use in any experimental minded studio out there.
Thanks to Teenage Engineering for the cooperation on this review.