Celemony is pleased to announce the availability of Melodyne editor Version 2. New features include extended timing tools, wide-ranging functions for working with scales, plus Rewire, keyboard shortcuts in the plug-in, and numerous other improvements. The price of Melodyne editor is US$/€ 399; the update costs US$/€ 99.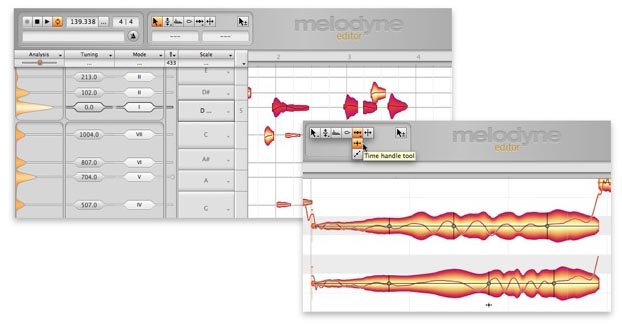 With Version 2, Melodyne editor has become still more musical, capable of editing in still greater depth, and even more widely compatible. The most important new functions are:
Extended timing tools: With the Attack Speed tool, you can edit the transients that are of crucial importance to the sound – even for each note individually: an important creative tool not only for percussive sounds. In addition, the new Time Handles allow you to shape even the time course within notes, which, for example, makes even more detailed editing of vocal phrasing possible.
True Scale & Tuning: The new scale functions now permit even the editing of Arabic, Indian, contemporary and microtonal music with Melodyne. Countless scales, temperaments and tunings can be loaded, edited in detail or created from scratch. The highlight is the Scale Detective, which is capable of analyzing any piece of music or sample so that even users with no detailed knowledge can transfer the scale and tuning of one recording to another.
Rewire support: Melodyne should be of use to as many producers as possible – regardless of which DAW they work with. For this reason, Melodyne editor now also supports Rewire and therefore allows operation with DAWs that have no plug-in interfaces or were previously incompatible with Melodyne.
Greater transparency and ease of use through features like keyboard shortcuts in plug-in mode, highlighting of blobs as they play back, and an improved display of the time and pitch grids.
The price of Melodyne editor is US$/€ 399. An update from Version 1 costs US$/€ 99. The update is free for users who registered Melodyne editor for the first time after October 1, 2011. With the update to Version 2, Melodyne assistant and essential profit from minor improvements and Rewire support, these updates being free of charge.
You can find out more about Melodyne editor at www.celemony.com/editor2. With a new trial version, Melodyne editor can be tested without limitations for 30 days – even if you have already tested an earlier version.
Films demonstrating the new functions can be found on Celemony's YouTube channel.