The guys at Neo-Soul Keys have released an Electric Piano Suitcase Mark I VST Library for Kontakt FREE Player. Realism was absolute number one goal and with vintage modeled effects, complex impulse response algorithms, and tweak-able knobs for ultimate control Neo Soul keys offers the best E-Piano experience ever produced in a plug-in.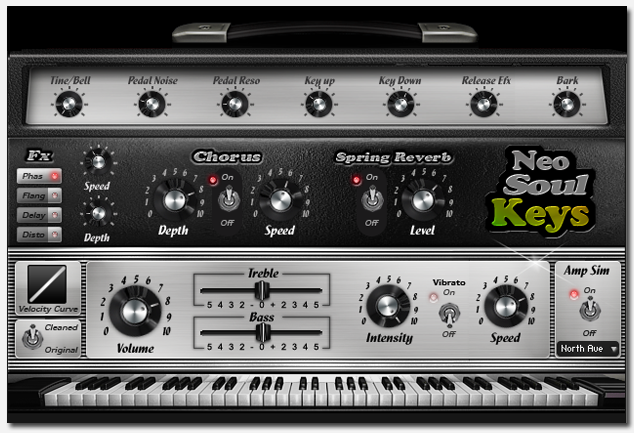 Here's what they have to say about this Electric Piano Library for Kontakt:
"When we first embarked on the incredible task of creating another electric piano library, we waited years for the right Suitcase to sample. With so many incredible options out there, we narrowed our focus in on one main goal and that was REALISM. We wanted to give you the most authentic and organic experience possible. When you bang down on the keys, we wanted you to hear and feel all of the grit, grunge, clank, and thud of a real electromechanical instrument. The second thing we wanted to do was to make sure that the library had BARK. In our opinion, we felt there was still a little room left for another electric piano sound that could offer that extra grit and silkiness at the same time. Our love for neo-soul music also has driven us to create a very specific sounding electric piano with the grit of hip-hop; the silkiness of R&B; and the soul in neo-soul. This is why you will be able to hear this creamy, buttery, and smooth sheen to our samples. It has that signature sound that you've been trying to get for years, but never quite mastered.
With all of that said, we can safely and assuredly say that you can leave your heavy 100lb Suitcase at home and use our library instead. So go ahead and replace all of your EP tracks with this new Neo-Soul Keys and transform the entire feel and warmth of your songs."
Features:
• Dedicated 2.6GB of sample data (44.1kHz/24-Bit)
• 12-Velocity layers of sustain, release, and staccato (bark) notes
• Bass and Treble Boost
• Graphical Velocity Curves
• Tine/Bell Controls
• Pedal Noise and Resonance sounds when sustain pedal is pressed
• Key release noises, emulating real electromechanics
• Velocity layered release samples
• Dedicated Bark samples, for more aggressive sounds
• Vintage Modeled Vibrato
• Revamped Impulse Responses of Vintage Amp Models
• Warm Phat Chorus for a Thick Layered Sound
• Special EFX Section: Phaser, Flanger, Distortion, Delay
• Vintage Modeled Spring Reverb
• Kontakt 4 Advanced Scripting
• Disk Streaming to Reduce Memory Usage
• Easy MIDI Learn function for all knobs, sliders, and buttons
• Real-Time MIDI controls that can be saved in a patch
• Clean/Original Switch for raw samples or cleaned up sounds