Gibson Guitar has moved heavily into pro audio with the creation of the Gibson Pro Audio division. The division will offer professional grade equipment, including loudspeakers, headphones, monitors, DJ gear, mixers, accessories and more.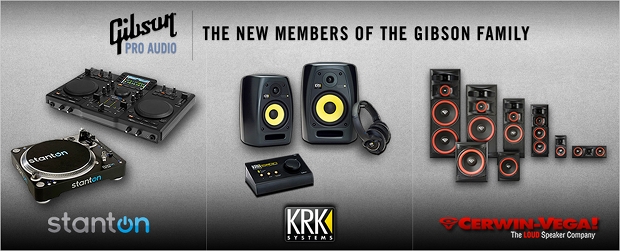 Gibson has created the Gibson Pro Audio division by acquiring the esteemed Stanton Group, which includes some of the most respected audio manufacturers in the business – Cerwin Vega!, KRK Systems and Stanton DJ.
Cerwin Vega! was responsible for the world's first solid-state amplifier in 1957. KRK Systems began in 1986 as a high-end monitor manufacturer. Stanton DJ was originally founded at Stanton Magnetics in 1946 by Walter O. Stanton, the inventor of the easily replaceable phonograph stylus, and grew into an industry leader in DJ audio equipment.
Henry Juszkiewicz, Chairman and CEO of Gibson Guitar, said, "This new division is perfectly aligned with our core. It expands our reach to fellow music lovers and allows us access to 20 in 20 consumers instead of the one in 20 we currently hit. Stanton produces some of the best pro audio equipment in the world and we're incredibly excited to be working with the very talented team at Stanton as we take Gibson into the future."