The Red Bull BPM DJ app is now available via the Apple App store for iPad, iPhone and iPod Touch. Download the app for free and get extra features to turn your mobile device into a complete DJ setup via in-app purchasing. Also available: the new Output Booster that solves the problem of the low output volume of the iPad and iPhone.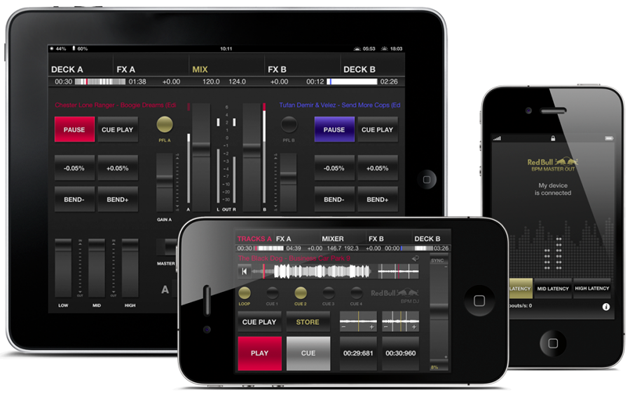 Over the past two years, the BPM team has put countless hours in developing the best touch device DJ application possible. The highly enhanced new version takes yet another leap in pioneering this form of modern DJ'ing. Some key features in the new BPM DJ app include looping, slip mode, beat and block-aligned seeking, switchable beat-snap, and automatically adjusted pitch range.
The BPM DJ app has two decks, two effect engines and a mixer, and was designed, developed and tested by professional DJ's. BPM DJ's high usability and stability standards make it a perfect tool, suited for any event; from a small after party to a major club night. You can expand your possibilities by obtaining the various Packs through in-app purchasing.
You can choose:
– Use your own music (use your own tracks and playlists from your music library)
– Performance Pack (an advanced looping engine with auto, bounce and many other effects)
– Pro Output Pack (unlock all output modes to have the most flexible DJ setup)
– Premium Pack (all available features at once, at a discount rate)
An essential piece of additional hardware is the Output Booster, a nifty device that solves the problem of the low output volume of the iPad, iPhone and iPod Touch. The Output Booster boosts the volume of your device by 30dB, so pump up the volume! The Output Booster is available via the accessories page on the website. It's the perfect Christmas gift for every professional DJ!
The Red Bull BPM range of apps further includes BPM Play, a fun app to play with your favourite music, and BPM MasterOut, which enables you to add a second stereo channel to your set-up for pre-fader listening on a second device.