The Nord Drum is a revolutionary 4-channel drum synthesizer that is the result of a creative collaboration between Clavia and drum/music technology enthusiasts Bruniusson & Berg. With an amazingly vast sonic palette and an astounding level of playability it is guaranteed to change your perception of what's possible with synthetic, sample-free percussion.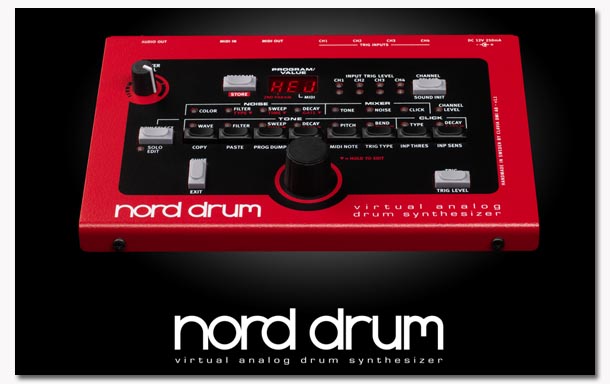 The Nord Drum lets you create classic retro-futuristic percussion with analogue waveforms or use the harmonically complex waveforms together with different colours of noise for results that both sound and respond stunningly organic.
The Nord Drum is designed with the performing musician in mind and its extreme dynamic range and super-fast triggering add to the feeling of playing a real instrument.
4 high-sensitivity inputs and MIDI lets you play the Nord Drum with a wide range of Electronic Drum Pads, Acoustic Drum Triggers and MIDI-pads/Sequencers for easy integration into any existing drum-kit or the starting point for something completely new…
The Nord Drum will be shown at the AM&S Nord Booth #6464 at NAMM Show 2012.
Nord Drum will ship in the UK in March 2012 with an estimated selling price of £399 RRP inc VAT.
Videos and sound demos will be available at norddrum.com from January 19th!