CNTRL:R is a contemporary MIDI performance instrument for creative music production. Housed in a lightweight aluminum body, this controller is ideal for live performance and studio production. Create rhythms, sequence and perform drums, launch clips, mix tracks, and have complete control over your performance with CNTRL:R's advanced set of features. High quality faders, push button encoders, rotary knobs, expression pedal inputs, and keypads backed with RGB lights give you all the controls you need for an interactive performance. With scripts available for Ableton Live and NI Traktor, the CNTRL:R meets the needs of anyone looking to perform electronic music. CNTRL:R is designed and hand crafted in Austin, TX.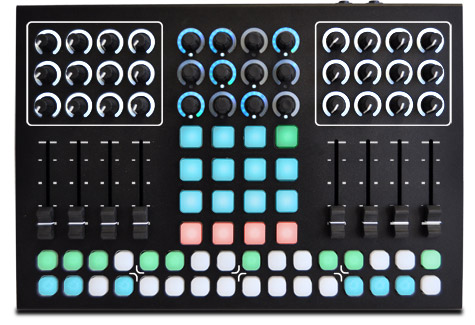 CNTRL:R was designed over a one and a half year period with electronic music pioneer Richie Hawtin and the artists on m_nus records. The controller is designed to provide a high quality controller sized small enough to fit into a backpack, but large enough for extensive hands-on control. The instrument has all of the essential controls for music creation and can be adapted to many different software and styles. The "sequencer" section of the controller can be set to create sequences and grooves, or control cue points and triggers. The central 4×4 keypad can launch clips, play drums, and control functions. The fader and knobs are ideal for channel strip controls, device control, EQ, and effects. The CNTRL:R is totally programmable and adaptable to any software that supports MIDI.
CNTRL:R from Livid Instruments from Livid Instruments on Vimeo.