Dangerous Music has recently announced their newest monitor controller, the "Dangerous Source" — a portable and desktop unit designed for the engineer on the go or to fit a limited space on the desktop. The Dangerous Source will be featured at Musikmesse after being shown at Winter NAMM and is set for release in early Q2, 2012; the price is to be announced.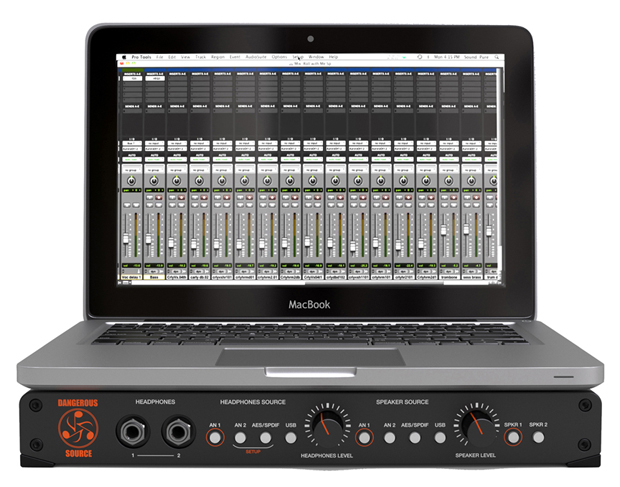 "With the explosion of professional recording and mixing being done on today's powerful laptop computers, we wanted to bring our standard of audio path quality and functionality to portable monitor control," says Bob Muller, President of Dangerous Music. "We've been making monitor controllers since before the product category existed in the mainstream, so the Dangerous Source seemed like the logical next step in the lineage of Monitor, Monitor ST and D-Box. We've also added a first for our products in that the Source connects directly to the computer via USB, saving even more cable hassles for the travelling engineer."
The "Dangerous Source" monitor controller includes many of the key professional features of the company's award-winning Dangerous D-Box, such as speaker switching for two sets of speakers, speaker volume, AES/SPDIF digital IN, 2 Stereo Analogue IN, dual headphone out with a separate level control, and in addition, it can connect directly to a computer for monitoring of digital audio over USB. Dangerous Source is capable of up to 24-bit 192kHz on both digital inputs. Although the Dangerous Source is the company's first non-rack mount product, an optional 1RU user-installable front panel option will be available.
Dangerous Music is one of the industry leaders in dedicated monitor controllers and helped usher in the product category over 10 years ago with the Dangerous Monitor — widely regarded as a benchmark of quality. Dangerous Music monitoring products have been nominated and won many prestigious industry awards including Pro Audio Review magazine's PAR Excellence Award, TEC Award, EM Editors Choice, MIX Magazine's Certified Hit, and Future Music Magazine's ACE award among others. The new sleekly designed "Dangerous Source" builds on this sterling reputation as a perfectly tuned complement to any DAW for its centralized control of speakers, headphones, and more. The Source fits perfectly beneath a 13" laptop computer, but it can also sit unobtrusively on the desktop within arms reach to provide easy control of volume, input selection, speaker switching, and headphone control and with an input for USB audio it simplifies a travelling mix rig even further.