Native Instruments today launched a time-limited special offer on TRAKTOR KONTROL S2, reducing the price of the compact 2-deck controller to $449 / 399 EUR throughout February and March 2012. This represents a saving of $220 / 200 EUR against the suggested retail price.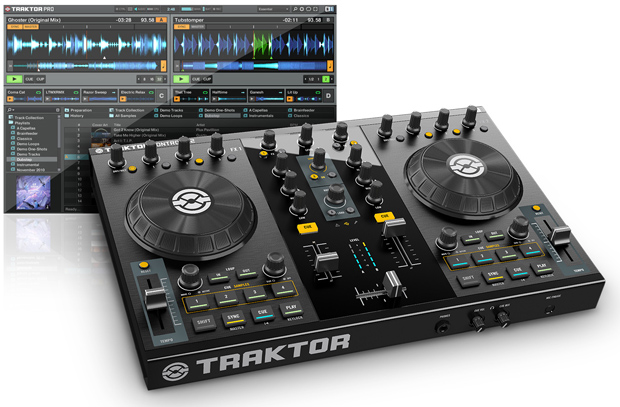 TRAKTOR KONTROL S2 is a versatile integrated DJ performance system that was designed to set a new professional standard in the 2-deck category. A compact version of the market-leading KONTROL S4 hardware, the S2 provides a '2+1' setup with sample decks as well as comprehensive mixing features and effects, all based on the included full-featured TRAKTOR PRO 2 software. Offering DJs a more portable alternative to the professional 4-deck KONTROL S4 system, the TRAKTOR KONTROL S2 provides the same patent-pending high-resolution jog wheels, combined with ergonomic controls for cueing, looping and controlling effects, plus the same acclaimed sound quality.
The two full-featured playback decks of the TRAKTOR KONTROL S2 are complemented by the versatile Sample Decks of the latest TRAKTOR PRO 2 software, which can add up to eight simultaneous one-shot samples or beat-synced loops to the mix. This effectively equips the KONTROL S2 system with a third channel that opens up a wide range of additional creative performance techniques beyond the typical two-deck paradigm in its product category.
This limited-time special offer sets the price of the TRAKTOR KONTROL S2 at $449 / 399 EUR. The offer is valid until March 31st 2012 and is available both from authorized and participating retailers and at the NI Online Shop. Customers that purchased the KONTROL S2 shortly before this offer was announced have been awarded with an e-voucher worth $120 / 100 EUR towards any product at the NI Online Shop, including the upcoming TRAKTOR controller.
Additional information on TRAKTOR KONTROL S2 is available at
www.native-instruments.com/s2