Last weekend in Los Angeles, Melodyne manufacturer Celemony became the first German software company ever to be honored by the Recording Academy with its Technical Grammy. The highest distinction in the music business, this is given in recognition of "contributions of outstanding technical significance to the recording field" and is equivalent to an Oscar in the film industry.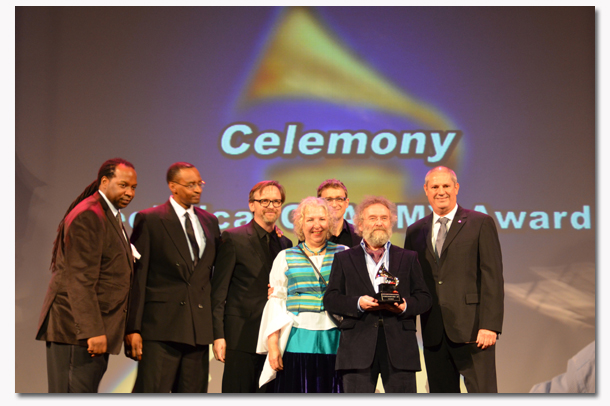 The first of the Special Merit Awards to be presented went to the Munich software house Celemony. Host and Grammy manager James McKinney opened with the legendary question posed long ago by Melodyne inventor Peter Neubäcker: "What does a stone sound like?" A truly philosophical approach to the world of sound technology, far away from the purely technical thought-processes that typically prevail in the industry, and yet it is for precisely that reason Celemony was chosen to receive this year's Technical Grammy. After all, Celemony has blazed open a radically new avenue of access to musical editing that for ten years now has made it impossible to imagine music production without it.
"This is an honor none of us ever expected. I believe our company is the smallest ever to have received a Technical Grammy. And perhaps also the strangest," commented Melodyne inventor Peter Neubäcker. In his acceptance speech, Peter Neubäcker alluded to his philosophical and mathematical background, explained his own, singular vision of music, and described the beginnings and the spirit of the company. He also thanked the Recording Academy, the Celemony team, the company's many friends and, of course, all the users of the software Melodyne. "We are very proud as a small Munich software house to be granted such a notable international recognition for our work," said Neubäcker, who was accompanied on stage by his three partners as he accepted the award.
Celemony revolutionized recording studio technology around ten years ago with a program called Melodyne that offered a radically new and distinctly musical approach to audio editing. Polished, expanded and recognized many times with awards over the years, Melodyne today counts almost all musicians and producers of note among its customers. The Who guitarist Pete Townshend regards the software as "a miracle", Ultravox singer Midge Ure calls it "black magic", Katy Perry producer Dr. Luke and multimedia visionary Peter Gabriel both love it, and jazz legend Herbie Hancock considers it a "must-have" for musicians.
You'll find more information about the the company Celemony and the software Melodyne, as well as further statements from musicians and producers, at www.celemony.com.