British pro audio mixer manufacturer, Allen & Heath, will be unveiling a new ZED mixer at Pro Light & Sound, Frankfurt, as well as showcasing the new GLD digital mixing system, and other recent additions to the ZED and Xone ranges. Exhibiting in Hall 8.0 on Stand C22, Allen & Heath will be launching the ZED60-10FX, a new mixer based on the top-selling ZED-10FX with the addition of premium quality 60mm faders.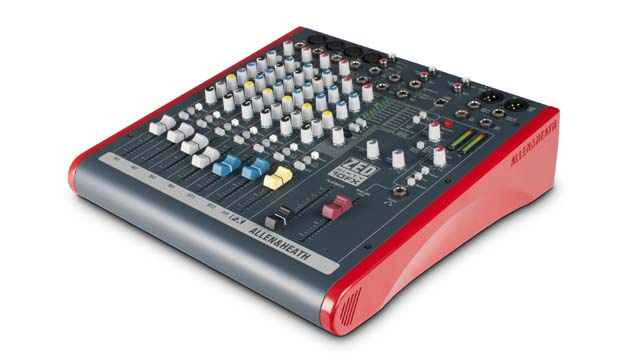 The ZED60-10FX is a compact, portable mixer ideal for solo artists and small bands. Two of the four mono channels have high impedance jack inputs that can take a normal line level or a low level input from a guitar pickup, so guitars can be plugged straight into the mixer without the need for DI boxes. Two stereo inputs are provided for MP3/CD players or keyboards, and the mixer is equipped with configurable USB audio in/out to capture a stereo recording, XLR main stereo outputs, a flexible monitoring section with headphone and speaker feed outputs, and 16 high quality digital effects developed from the iLive digital mixing system.
Also on display from the ZED range will be the recently released ZED-16FX and ZED-18, each with 10 fully-featured mono channels and 3 or 4 dual stereo channels, respectively.
The focal point of the stand will be Allen & Heath's hotly anticipated GLD, a user-friendly, cost effective and scalable live digital mixing system, conceptually based on the hugely successful digital iLive series. A standard GLD 32 input system offers 28 XLR mic inputs with plug n' play I/O expanders allowing easy expansion up to 48 inputs (44 XLR mic inputs).
At the heart of the system is the GLD-80 mixer, providing 48 input processing channels, 8 stereo FX returns fed by iLive's acclaimed FX emulations, 30 configurable buses, 20 mix processing channels, and DSP power to provide full processing without compromise. The GLD-80 connects to a range of plug 'n play I/O racks to 'build' 28, 36 or 44 mic input systems. A primary AR2412 rack (24 XLR inputs, 12 XLR outs) and up to two AR84 expander racks (8 XLR inputs, 4 XLR outs each) can be connected over 120m CAT5 runs using A&H's dSNAKE protocol. dSNAKE provides control to the remote preamp, and all mic preamps are scene recallable. AR2412 also includes a connection for personal monitoring systems.
The latest models from the Xone DJ range – the Xone:DB2 digital mixer and Xone:K2 MIDI controller – will also be demonstrated. The DB2 is a fully digital, state-of-the-art DJ mixer, incorporating two powerful multi-FX engines, and retaining all the essential elements of the award-winning Xone:DB4 but at a price point that places it at the forefront of the highly competitive effects mixer market. The Xone:K2 MIDI controller and audio interface has a 4-channel internal soundcard, configurable MIDI surface with tri-colour LED illumination, USB bus power, and incorporating A&H's proprietary X:LINK to connect with other Xone equipment.