Among audio professionals, the Fairchild 670 is the most coveted of all compressors, not only because of its unique color and character, but also its rarity and price: With fewer than 100 units ever made, original Fairchilds routinely go for tens of thousands of dollars on the vintage market. With 20 vacuum tubes and 4 hand-wired transformers in a hefty 6 rack-space chassis, these hard-to-find units weigh in at a robust 65 lbs. Both the stereo 670 and its mono counterpart the Fairchild 660 use single push-pull amplification stages with extremely high control voltages. Both variable-mu limiters are unique in that they use tubes for gain reduction as well as amplification. Compression takes place directly in the audio path, rather than being routed to a separate circuit.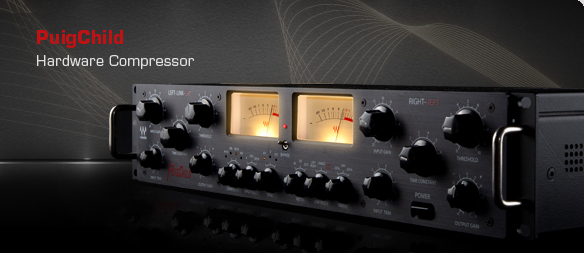 When Waves set out to model the Fairchild, we turned to producer/engineer Jack Joseph Puig, renowned among gear aficionados for his extensive collection of hand-picked, meticulously-maintained outboard equipment. Granting us exclusive access to his finest unit, Jack worked closely with Waves, making sure we
captured every nuance of its distinctive harmonic complexity.
Manufactured with the same impeccable standards and attention to detail as our acclaimed MaxxBCL, the PuigChild is a remarkable engineering achievement that truly represents the best of the best.
PuigChild Hardware Compressor
Modeled on a rare vintage Fairchild 670 from the personal collection of Grammy® award-winning producer/engineer Jack Joseph Puig, the PuigChild hardware compressor faithfully recreates the unmistakable sound of the original. Featuring dual mono, linked, and lateral vertical stereo modes, 16/24-bit digital I/O, and outstanding AD/DA converters, housed in a rugged 2U rack unit, the PuigChild is a world-class compressor — in the studio or on the road.
Features
Legendary Fairchild sound in a road-ready hardware unit
Dual mono, linked, and lateral vertical stereo modes
State-of-the-art 24-bit converters
Analog and digital connectors for all popular formats
125 dB dynamic range
Switchable sampling rates up to 96kHz