Propellerhead has released ReCycle version 2.2 for sale—an update to the industry standard tool that creates REX files. Sporting a completely overhauled graphical user interface, ReCycle 2.2 adds new key commands, workflow enhancements and a new Online Help system—making Recycle even faster and easier to use. Version 2.2 is a 64-bit compatible application with full support for Windows 7 and Mac OS X Lion operating systems.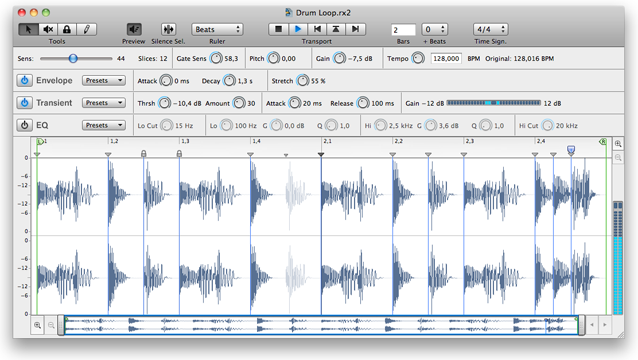 About ReCycle
An industry standard, ReCycle is the fastest way to make sampled material your own. ReCycle lets you do with sampled loops what you can do with beats programmed from individual drum sounds—like alter the tempo, or replace sounds and process them individually. Producers use Recycle for making loops tempo-independent, for quick editing of sampled parts, chopping up riffs, remixing and doing mash ups.
Load any loop or musical phrase into ReCycle. The program will look at the file, analyze it, and slice it up into its rhythmic components. The file can then be rearranged, pitched or have its tempo freely adjusted. Artists have full control over the individual slices and can alter the timing or even quantize the groove, keep the feel of the loop and replace the sounds with their own. Or load the file into a software sampler and trigger the individual parts from a MIDI keyboard to turn the sampled material into a completely new performance.

A favorite among sound designers and producers, ReCycle's REX file format is supported by all major music software titles including applications such as Apple Logic, Avid Pro Tools, Steinberg Cubase, Cakewalk Sonar, Ableton Live, MOTU Digital Performer and Propellerhead Reason, as well as software instruments such as Native Instruments Kontakt and Spectrasonics Stylus RMX.

www.propellerheads.se

Pricing and Availability
· ReCycle 2.2 is available now for purchase worldwide, at a suggested retail price of USD $249 / EUR €229.
· The ReCycle 2.2 upgrade is available as a free download for any registered owner of ReCycle version 2 or higher.
· Upgrades from 1.x of ReCycle can be purchased from the Propellerhead web shop.