AB Lemur Bundle is the first of the series. Available now as a free download, the package presents three Lemur templates by master designer Antonio Blanca, a force to be reckoned with when it comes to interface design. He's created Lemur templates for many popular Reaktor factory ensembles. We present here three of these beautiful and unique creations which are sure to inspire musicians, composers and sound designers alike. They come bundled with adapted 'Lemurized' versions of the original Reaktor ensembles allowing for full Lemur control via OSC. Best of all, AB Lemur Bundle is completely free of charge.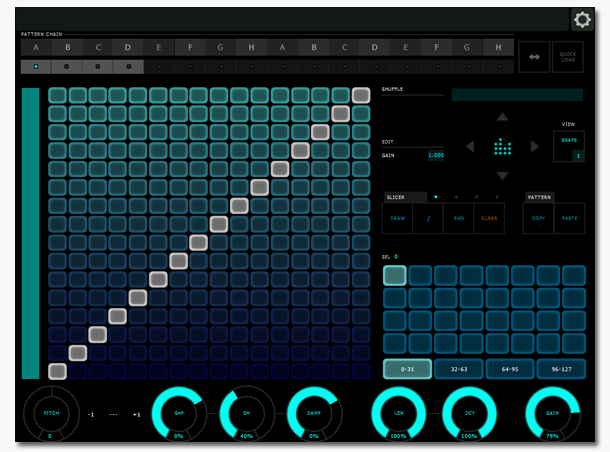 Sound designers Richard Devine, Antonio Blanca and Miguel Isaza have contributed sound examples to further enhance your Lemur multi-touch experience.
More details on the three templates:
– Lemurized L3
Lemurized L3 is the ultimate interface for programming and performing beat slicing. Not only can you re-order the slices and sequence effect parameters, you can sequence different patterns and samples. Experiment and use it on any kind of loop in your arsenal.
– Lemurized Skrewell
Skrewell is an abstract, noise-based drone machine. Use the accompanying Lemur template to shape it and give it a life of its own. The clear layout and cool-grey colour scheme makes it easy and fun to shape your soundscapes.
– Lemurized Spacedrone
Another deep Reaktor soundtool, this one certainly lives up to its name. The range of sounds this ensemble can produce are profound and the Lemur controller template really lets you harness this power. The Breakpoint objects are put to great use as modulators. Turn the physics on, hit record and explore the range of morphing sounds.
***A big thank you to all who have supported Lemur!
Liine wish to say thank you for the amazing response to Lemur's launch in December 2011. The amount of web traffic, Facebook activity and blog postings and comment threads expressing enthusiasm about Lemur was simply overwhelming. The number of units sold in the first two weeks is more than the total number of Lemur hardware units ever sold. This is a real testament to the passion Lemur inspires in musicians and artists.
Thanks to our growing community of passionate users the Liine forum has been constantly abuzz with users asking questions and sharing solutions, template examples and videos of performances. In a further effort to support this growing and sharing community we look forward to highlighting more Premium Content in the future and we'd love to see what YOU do with the Lemur!
For more info:
Web: http://liine.net