FabFilter releases a brand-new addition to its line of creative effect plug-ins: FabFilter Saturn, a multi-band distortion and saturation plug-in. A great variety of distortion styles from subtle tape simulation to full-on multi-band guitar amp mayhem, combined with endless modulation options and a streamlined, uncluttered interface promise FabFilter Saturn a place among the stars.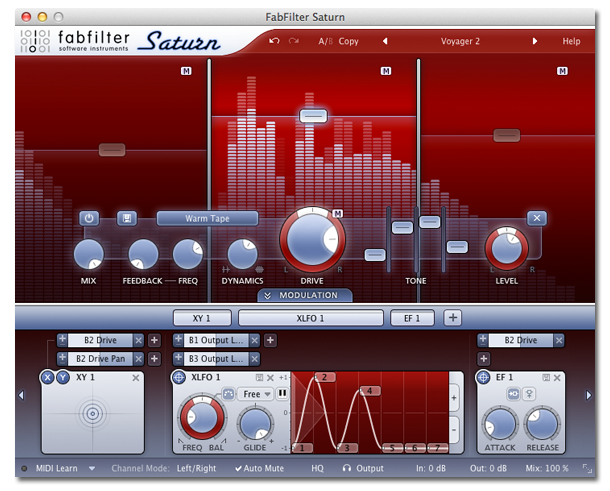 FabFilter Saturn offers a wide range of high-quality distortion models from subtle, clean and warm tube or tape saturation to fully overdriven vintage guitar amp simulation. Additional creative distortion styles let you time-smear, stretch, crush, rectify and clip your sounds in inspiring and unexpected ways. Create up to six bands with individual feedback, compression/expansion and tone controls to give each part of the spectrum the warmth and color it needs.
To bring even more life and depth to your sound, engage FabFilter Saturn's extensive modulation section. By applying subtle modulation to crossover frequencies, dynamics, band levels or tone controls, you can add unique definition and flavor. With practically unlimited modulation sources from XY controllers and programmable step sequencers to any type of MIDI data, the creative possibilities are endless.
The clever user interface makes FabFilter Saturn look deceptively simple, showing only the controls that you are actually using at the moment. The entire modulation section is hidden by default, resulting in a friendly interface that invites you to explore the essential controls and the included factory presets. When you need to look "under the hood", a single click expands the modulation section, letting you easily add modulation sources and create modulation connections via drag-and-drop. This combination of features makes FabFilter Saturn powerful and flexible, yet ultimately accessible for everyday use.
Key features:
– Sixteen different distortion styles, from subtle tube and tape saturation to heavily overdriven guitar amp models, time-smearing and bit crushing
– Multi-band processing (up to six bands)
– Per-band drive, mix, feedback, dynamics, tone and level controls
– Optional HQ mode (8x oversampling)
– Mid/side processing
– Interactive multi-band display
– Easy-to-use interface with FabFilter's innovative what-you-use-is-what-you-see concept
– Normal and wide interface layouts, with an option to show or hide the modulation section at the bottom
– Endless modulation options, with all the 16-step XLFOs, XY controllers, envelope generators, envelope followers and MIDI sources you will ever need
– Easy drag-and-drop modulation with 50-slot modulation matrix
– Modulation source signal visualization
– Over 150 factory presets included
– Stereo and mono plug-ins available
– All the usual FabFilter features you've come to expect: perfectly fine-tuned knobs and controllers, interactive MIDI Learn, undo/redo and A/B switch, Smart Parameter Interpolation for smooth parameter transitions, an extensive help file with interactive help hints, sample accurate automation, SSE optimization, and more
FabFilter Saturn is now available for EUR 129, USD 174 or GBP 114, supporting both Windows and Mac OS X in VST and VST 3, Audio Units, AAX, RTAS and AudioSuite plug-in formats. Bundles with FabFilter Saturn and other FabFilter plug-ins are also available. See www.fabfilter.com/shop.