Pioneer's flagship headphones, the HDJ-2000s, have long been favourites among those who demand both style and sound quality. And now DJs and producers have even more choice as Pioneer launches a black chrome model – for headphones that are as easy on the eye as they are on the ear.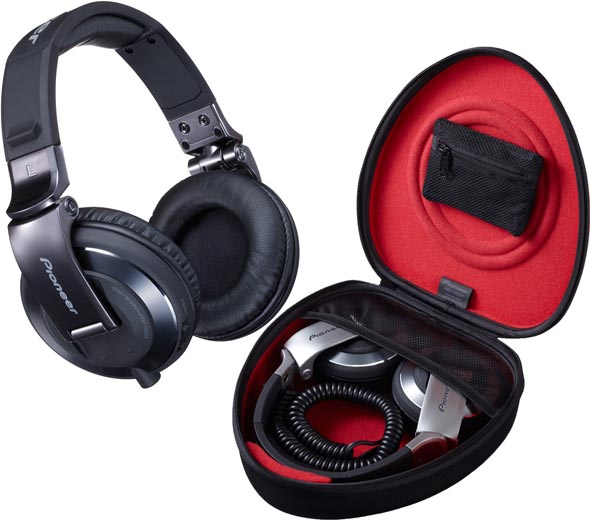 Joining Pioneer's ranks alongside the original silver HDJ-2000s, the sleek black HJD-2000-Ks allow DJs to match their headphones to their equipment, their studio, their favourite club, or even their clothing.

Plus, the matching HDJ-HC01 carrying case, designed exclusively for the HDJ-2000 range,means that the headphones are every bit as portable as they are stylish.

The HDJ-2000-K headphones and the HDJ-HC01 carrying case, which is sold separately, will be available from March 2012 at a SRP of 269 GBP/320 EUR and 21.99 GBP/35 EUR respectively.

KEY FEATURES OF THE HDJ-2000-Ks
1.) Stylish black chrome design
Made from solid magnesium alloy with a glossy black chrome finish, the sleek HDJ-2000-Ks complement Pioneer's industry-standard DJ equipment and look good in every environment.
2.) Outstanding resolution and sound quality
Superb clarity with clear separation of sound is guaranteed with the HDJ-2000-Ks' high-fidelity frequency response of 5 Hz to 30,000 Hz, regardless of background noise. Distortion is eliminated completely – even at sustained high volumes – thanks to the robust construction of the headphones and the capacity for 3,500 mW of input.

The HDJ-2000-Ks' 50 mm driver units and high-flux magnets create outstanding resolution, while a 38 μm-thick diaphragm delivers plenty of bass. A voice coil rolled at the optimum width and frequency, meanwhile, produces excellent balance from bass to treble. Plus, the ear pads' damper and airtight stitching deliver excellent sound insulation.
3.) Comfortable to wear, enabling long DJ play
The HDJ-2000-Ks' rugged but lightweight material and DJ-friendly swivel/fold design make them perfect for prolonged wear. Snug-fitting, heat-sensitive ear pads – made from synthetic protein leather and low-rebound urethane foam (memory foam) – offer excellent sound insulation and comfort during long sets. And one-ear monitoring is a breeze with the headphones' convenient STEREO/MONO switch and flexible headband.
4.) i-hinge mechanism with auto-return
For maximum flexibility, each ear cup swivels a full 90 degrees thanks to the HDJ-2000-Ks' i-hinge with auto-return feature – perfect for DJs who prefer 'on-the-shoulder' monitoring. DJs can also opt for Pioneer's above-the-lobe ear pads, which are sold separately and sit directly on the skin, providing an airtight seal for even greater sound isolation.
5.) Excellent durability for the rigours of professional use
An improved, more robust connection between the headphones' main unit and cable make the HDJ-2000-Ks ideal for pro-DJs. A removable mini-XLR connector means that the cord can easily be disconnected during transit and even replaced if it gets damaged. Plus, theswivel/fold mechanism allows the HDJ-2000-Ksto be folded in on themselves, making them easy to transport from gig to gig.
6.) Available accessories – exclusive HDJ-HC01 carrying case
Specially designed for the HDJ-2000 range, the slim and lightweight HDJ-HC01holds the headphones perfectly for the ultimate in stylish portability. For added convenience, accessories such as USB memory sticks and SD cards can be stored in the HDJ-HC01's pocket.