Hal Leonard Books, the musician's best source of books on the music business, audio technology, instrument history, and more, has published Recording Software & Plug-Ins by Bill Gibson. This updated second-edition is Book 3 of The Hal Leonard Recording Method. Once you've learned how to use microphones and mixers (Book 1), and to record instruments and vocals (Book 2), discover how to get the most out of your recording software and plug-ins.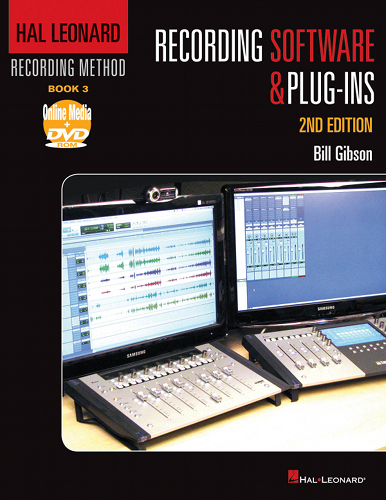 No matter what software you use – Cubase, Logic, Digital Performer, SONAR, Reason, Ableton Live, Pro Tools or Studio One – they all share common concepts and features. Recording Software & Plug-Ins teaches you what you need to know to be able to navigate any software program so you can be ready to work in all of them. And it includes a concise and thorough explanation of the digital recording process along with techniques to combine exciting new technologies with classic analog systems and tools. This amazing book and DVD-ROM package uses detailed illustrations, screen shots, audio and video examples to get you fully immersed in understanding, using, and making great music with your recording software and plug-ins.
This is the first professional multimedia recording method to take readers from the beginning of the signal path to the final master mix. The series provides easy-to-understand explanations of the entire recording process, addressing both classic equipment and the latest technology; photos and illustrations; dozens of audio and video examples; and more.
Bill Gibson has spent the last thirty-plus years writing, performing, recording, producing, and teaching music. He has written more than thirty books and produced several videos covering important audio concepts. His style is acclaimed for straightforward and understandable explanations of audio concepts and applications. Gibson, an instructor at the Art Institute of Seattle, is also known for his work helping Quincy Jones author the book Q on Producing. He has developed curriculum and currently teaches online sound courses for Berklee College of Music in Boston. Gibson lives in Seattle, Washington.
The Paperback with DVD will cost you $39.99, ISBN 9781458416513. More info: www.halleonardbooks.com and www.onstageandbackstage.wordpress.com.