Veteran synthesizer designer Tom Oberheim announced a new type of synthesizer just today. This may sound as an Apple spoof but this new Tom Oberheim 2-voice is similar to the original from 1975, but with some very interesting upgrades.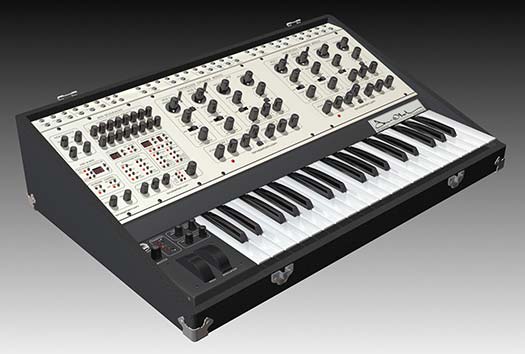 Features:
– Mini-Sequencer is enhanced – you still generate a sequence with the knobs ( up to 16 positions ) but you can store sequences from the knobs into flash memory (up to 99 sequences stored)
– Two sequences can be played simultaneously (or play one sequence while also playing on the keyboard, like the old one)
– After sequences are stored in flash memory, you can edit them to add 2-way, 3-way or 4-way ratcheting and you can program the gate length from zero (like a rest) up to almost the complete step length
– Sequences can be chained into songs, and each step in a song can be programmed for sequence number, transpose amount and number of repeats – Sequencer syncs to Midi Clock
– Keyboard outputs velocity and pressure
– Each module (both SEMs, Mini-Sequencer, Keyboard Control) has mini-jack patch points (over 50 patchpoints)
– Pitch and Modulation wheels
– Pan pots
– Headphone output
– Separate Vibrato LFO
The U.S. price of the new Two Voice Pro is $3495 and the "Tom Oberheim" Two Voice Pro Synthesizer is scheduled for delivery in June 2012.