MixVibes is proud to present the most exciting DJing application they have ever created: CrossDJ for iPad. MixVibes brings you a comprehensive iPad DJing experience with a user friendly yet professional and feature rich layout. This application allows all DJs to enjoy performing quality sounding mixes on an iPad.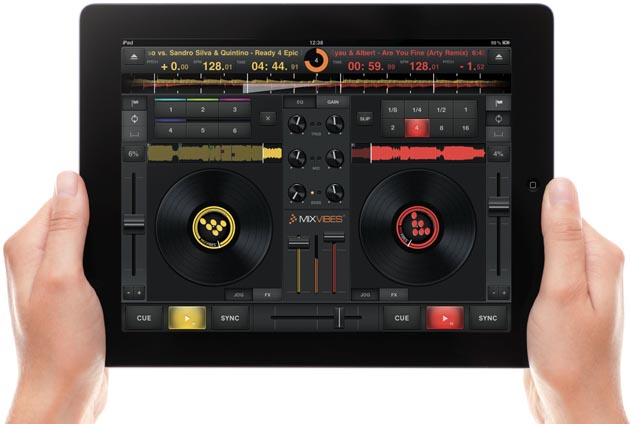 CrossDJ was developed by the same professional software team who developed 'Cross', awarded 'Best DJing Software' in 2010 and 2011 the MIXMOVE awards in Paris. MixVibes has been providing DJs with professional solutions for over 10 years. Hence, no other iPad DJing application has ever received such expertise, attention to ergonomics and user feedback in its development.
A complete DJing tool, CrossDJ is a fully-fledged DJing controller. It features a full 2-channel mixer with 3-band EQs and Kills, preset Loops, 6 Locators, High-precision audio FX with X/Y control pad and much more. These professional features are what will no doubt make this application a reference in the DJing Market. Eric Guez C.E.O. of MixVibes commented, "I believe that the iPad is and will become a serious DJing tool in years to come."
In addition, CrossDJ takes advantage of the iPad/iPhone media management paradigm with fluid, rapid and intuitive browsing and loading. You can easily access all iTunes playlists and browse media using a Dynamic Triple Criteria Filter.
The audio stream can be split in order to be able to monitor tracks with headphones, which is essential for a professional mix.
Clean mixes and clear sound is what you are getting with CrossDJ!
CrossDJ – Main Features
– A DJing Controller
Thanks to 10 years of expertise in DJing software, MixVibes brings you a professional iPad application including all the main DJing features you need to perform and control a seamless mix. The mixer section includes 2 players with 3-band equalizers, frequency kills, gains, 2 volume faders, a crossfader and 2 pitch sliders with adjustable range (4%, 6%, 8%, 16%, 32%, 100%).
– FX Touch Pad and Vinyl Wheel
The interface features 2 deck views: The "vinyl record deck" allows precise scratching and the possibility to cue a track as you would with a regular turntable. The "FX view" features a large X/Y control pad allowing you to explore the full extent and potential of the 13 audio FX. The "FX hold" feature allows you to lock down an audio effect on a precise setting point. These features are the gateway to a whole new spectrum of creative possibilities.
– Two Loop Modes
The first mode is the regular loop mode with 8 different lengths of loops varying from 1/8 beat to 16 beats (4bars). The second mode is called "slip" mode. Here, loops are active only when a finger is pressed on the loop. While the loop is active the track keeps playing so that when you release the finger the musical flow is not affected.
– Star Features
The BPM analysis algorithm used by CrossDJ has been fire-tested and perfected to the max for the iPad. This analysis is performed automatically the first time you load a track. Once analyzed, the mix is visually assisted with a sync meter and high definition waveforms. Thanks to the "Beatgrid" feature, mixes will be flawless and synchronized automatically. Edits to the beat grid are doable on-the-fly and saved to the collection.
– Headphone Monitoring: Split Output
CrossDJ offers the possibility to monitor the mix with headphones using multiple routing modes. The split routing allows monitoring, which means you are performing a mix in actual professional conditions. The default setting plays music directly through the master stream.
– Media Management
CrossDJ is stocked with a combination of MixVibes' multiple award-winning Media Management system and Apple's intuitive track search paradigm. Media browsing is made through a multi-criteria filter or directly on the full size iPad keyboard. Hence, loading a new track is done in seconds.
– Sound
CrossDJ is compatible with most popular audio formats including every iTunes compatible format and many more. A pristine sound quality of CrossDJ will be offered through the headphone plug jack and the USB port.
Clean mixes and clear sound is what you are getting with CrossDJ!
Available from the App Store – Expected Launch Date: 7th May. Special launch price 7.99€ (ends 4th June)
Normal price 14.99€. iPhone version launching summer 2012