FXpansion is proud to present Etch, a versatile filtering effect based on DCAM circuit-modelled technology. Featuring dual filter blocks with additional distortion and compression alongisde a huge range of modulation possibilities, Etch can do amazing things to all kinds of audio material.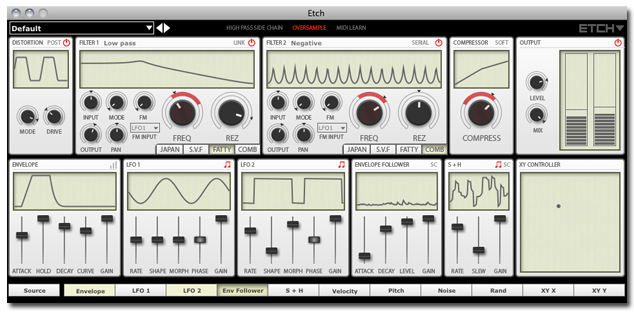 Etch's filter blocks can be switched between 4 different modelled circuits. 3 classic synthesizer filter models are extended in the digital domain to provide a full range of low-pass, band-pass, high-pass, peak and notch filter responses. Traditional fat-sounding Sallen-Key and state-variable designs are provided, and the OTA-array model provides numerous additional combinations and inversions of responses to produce unconventional, exciting filters that take your sounds to new places. Finally, the comb filter is great for psychedelic detuning and pitch wobble effects, advanced chorus/phaser textures and insane filters from outer space. Etch features dedicated audio-rate filter cutoff FM, from the internal LFOs or from an external audio source.
The internal TransMod modulation system will be familiar if you've used DCAM: Synth Squad or Tremor. It makes it simple and fun to concoct fiendish ways of manipulating and warping the filters: modulate the versatile LFOs by each other or by the sample-and-hold, which can operate on external audio streams as well as the internal noise source. Travel through wild modulation setups to find sweet spots with the XY controller or create performance-based triggered filters with the MIDI-triggered envelope – modulate output levels, pan, filter frequency, resonance, FM amount, LFO rate or any other parameter.. you can even make each trigger select a random filter response.
Features
– DCAM-modelled filtering, distortion and compression
– OTA-array, SVF, Sallen-Key and comb filter types
– Wide variety of multi-mode filter responses
– 4 distortion types and a simple, effective 1-knob compressor
– 2 LFOs, envelope follower, sample-and-hold and triggered envelope
– TransMod system for deep modulation possibilities
– secondary side-chain input and full MIDI control in compatible hosts
– 32-bit and 64-bit support
– VST, AU and RTAS plugin formats on Mac OSX 10.6.2 and Windows 7