Anyone into music production will be familiar with the production software tools from Native Instruments. Their sampler software Kontakt is one of the best outthere. That's just a fact. Native Instruments provides very high quality instrumenst for Kontakt. From drums, basses, synths, brass instruments, strings, etc. Plus there are many third-party instruments that run on the Kontakt sampler software. There are almost too many to mention. However, sometimes something comes across your desk that immediately triggers your interest. Personally, for me that was the Sasha Soundlab by AudioRaiders. Maybe I should mention that I am a big Sasha fan. His Airdrawndagger, Involver and Involv2er artist albums are instant classics and part of my all-time favorits.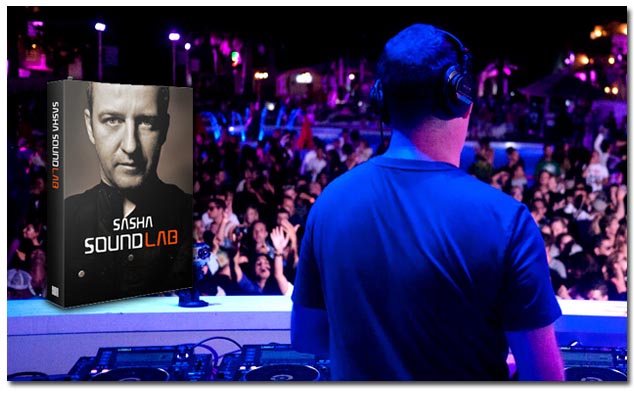 Sasha Soundlab
Starting with a review of the sounds of Sasha obviously was quite exciting as the man lifted EDM to a next level (in my opinion). A phrase from the manual explains exactly my thoughts: "Sasha's productions have a different feel from the current sounds mashing up the clubs. Although he's worked with many engineers over the years his signature sound remains indelibly stamped on each release." So nothing else to do then to look
if Sashas Soundlab fullfills my expectations.
Content
So what do you get then with Sasha Soundlab. Almost all of his sounds! If it's his loops, drumsounds, synths, his typical stab sounds, or basses, it is in there. But important to mention is the fact they are not the raw samples/sounds. All of them are processed and you can use them right away in your own productions. However, you can tweak them yourself as well with the built-in FX. There are filters, reverb, chorus and 'dirt' effect. As the soundlab is built as a Native Instruments Kontakt instrument it's pretty much easy to set-up and integrate into your music production project. I am using Cubase 6 and as I have worked with Kontakt instruments before I had no problems of getting it to work within minutes. Maybe if you'r not used to work with Kontakt it will take you a bit longer, but still much of its usage speaks for itself and will be mastered quickly.
Sounds
So you'll get a wide array of sounds, and at first I was a bit overwhelmd. Well, jus a little bit! At first you can't wait, when browsing through the sounds, to use them all. All sounds have a warm, full but clear sound, which can be described as having depth. If used in your project they fit perfect in your mix. But be careful is it not that when you use the Soundlab by Sasha your work as a producer is half way done. Allthough the sounds sound perfect and really nice you still have to do your own work (producing and mixing). But you'll definitely have a great start. Another obvious fact is that the sounds have a distinctive Sasha feel to them. But I dare to say even if you are not into Sasha (like I am) the Sasha Soundlab would be a great tool for any electronic music producers.
Tools
So I talked about the sounds. All sounds can be tweaked of course. The best to do that is with minimal
settings as you don't want to go to the edges of the tweakability. With the drumsounds you can use the built-in 'drum machine' (sequencer) to create your own drums. Another great tool is the 'Glitch Machine' which can help you to make grooves. It is difficult to explain what this 'crazy thing' does, but it helps you to create percussion style elements for your productions. You really have to see and hear this machine!
Verdict
If you are a Sasha fan or not, a novice, mediate or professional producer, I am going out on a limb and say you can't go wrong with this software. For any electronic music producer you get so many tools to craft great music with. Especially if we look at the price of only 99 Dollar. For that you get over 4000 sounds, 100 loops and 220 fully customizable instruments. If that doesn't say enough, I don't know what will. Even though I have used it in my DAW (Cubase 6) for a couple of weeks I still have to discover all sounds and possibilities. Because this instrument is so inspirational I kept playing with it longer then with other plugin instruments I tried out before. I guess I have stuff to do this summer!
Many thanks for AudioRaiders for letting me 'test drive' this great Kontakt instrument. – Eric Thoolen
Update: The Sasha Soundlab is now available at the Plugin Boutique.