Avid today announced the release of Sibelius First, the easiest and most intuitive way for aspiring composers, songwriters, arrangers and students to write and share music.
Sibelius First combines the Sibelius Student and Sibelius First notation products into a single easy-to-use, powerful, and fun music composition tool. The new Sibelius First takes advantage of the features introduced by Avid's Sibelius 7, including a task-oriented UI specifically designed to guide you through thecreative process, exceptional playback and sound quality, 64-bit technology and support for the latest operating systems—plus new video export functionality, online publishing, and direct sharing to YouTube, SoundCloud, and Facebook, and more.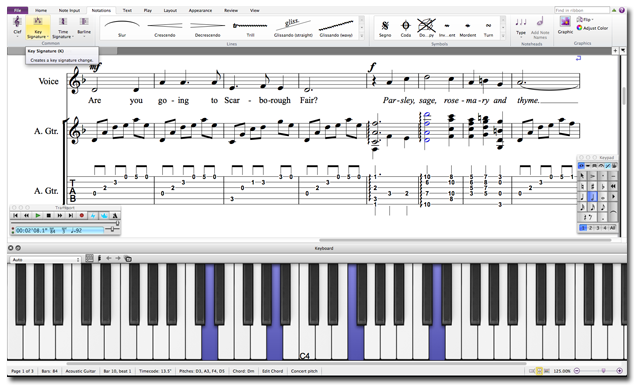 Sibelius First's standout features include:
· Easy-to-use interface: Using Sibelius First is faster and easier than ever, thanks to a refined, task-oriented user interface that makes it possible to get great results without prior experience
· Enter notes the way you want: Choose from scanning, transcribing, or MIDI import to quickly get your ideas into Sibelius First—now with full MusicXML interchange for transferring your music into and out of other applications
· Exclusive Sound Library: Includes a premium sound library so you can hear your compositions played back in amazing detail on high-quality sampled instruments, and produce better quality exports
· Full 64-bit support: Unlock the full power of your64-bit computer, and directly address more than 4GB of RAM
· Smart tools: no engraving or notation expertise required to get great results. Magnetic layout and dynamic parts make it easy to produce and tailor your scores to suit musicians of all kinds
· Take your scores on the go: Sibelius First scores can be added to the score library on the Avid Scorch app (sold separately)
· Exciting new social media and video sharing options: Users can easily export compositions as videos and publish their work to social media websites (YouTube, SoundCloud, Facebook) along with traditional print, email, or audio exports
Availability and Pricing
Sibelius First software is available now for £99 GBP / €120 EURO and multi-seat 5 packs are available for £239 / €291. Current Sibelius First and Sibelius Student customers may take advantage of upgrade options for £29.99/€39.To learn more visit Sibelius online. For purchasing inquiries, please visit the Sibelius Store.