For all those who feel that they have an instinct for mixing, and for everyone dreaming of getting behind the decks to host great parties with their own music and setting the dance floor on fire, Hercules is proud to unveil its new mixing console for computers: Hercules DJControl Instinct.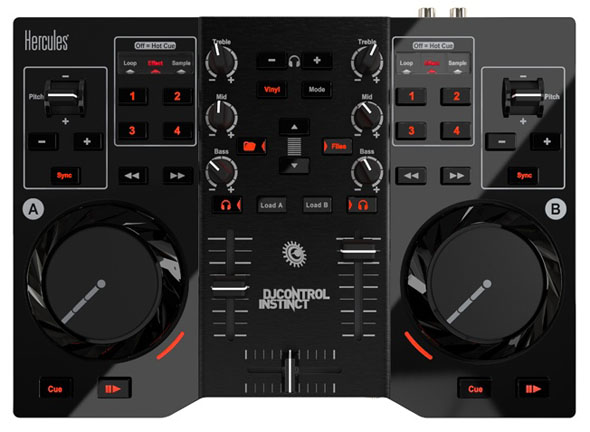 Instinctive, compact and lightweight, DJControl Instinct has been created with all users in mind, and comes equipped with everything you need to start having fun right away – audio outputs, pressure-detecting jog wheels, and intuitive mixing software.
All you need is a computer (PC or Mac®, with a USB port to connect the controller), a pair of amplified speakers, headphones, and audio files on your computer – and you're ready to start hosting your own wild parties!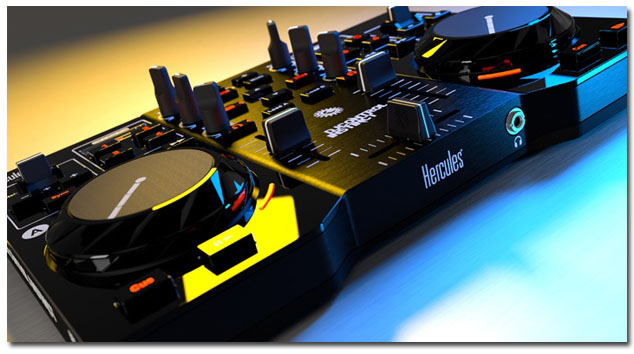 This latest offering from Hercules, the leader in mobile DJ controllers for PC/Mac®, is an invitation to all budding DJs to follow their instincts. With this new controller, Hercules is meeting its goal of putting DJing within everyone's reach by offering – three years after the release of the DJ Control MP3 e2 – a DJ controller which:
provides even better performance, with controls that are more versatile and more comfortable,
is more complete, thanks to built-in audio outputs,
is even more eye-catching, featuring shiny surfaces, and attractive backlighting that really stands out.
Instinctive mixing
Thanks to its central mixer with a brushed metal texture, which splits up the controller's surface in relation to the 2 lacquered deck areas on either side, DJControl Instinct provides handling that is truly instinctive. The bright orange and red backlighting used for its controls allows users to very easily identify where all of the different elements are, even in low-light conditions. In addition to being simple to use, the controller is also powerful: its 2 pressure-detecting jog wheels let you scratch without any latency, as well as scroll within tracks, and control the Pitch Bend function.
DJControl Instinct is easy to take with you anywhere, weighing in at less than 1 kg, and is just 19 x 26.5 cm in size. What could be better than impromptu parties at the beach, get-t
Connect your active speakers and headphones to DJControl Instinct
DJControl Instinct is the only controller in its category to feature built-in audio outputs: two RCA outputs, plus one 3.5 mm stereo mini-jack output. This makes it easy for DJs to play their mix on amplified PA system speakers, on a hi-fi system or on multimedia speakers.
An independent output in 3.5mm stereo mini-jack format also lets users connect their headphones, to preview tracks privately before playing them in their mix.
DJUCED: a true powerhouse of functionalities
The controller and its bundled DJ software, DJUCED, are a perfect match for one another – you'll be able to start mixing in just a few minutes. To help those getting started with mixing, DJUCED not only instantly displays the beats in music tracks, along with the tracks' lengths, but also indicates which songs match best for the next track to be played. DJUCED even lets you adjust the pitch, or use the auto-sync function, to ensure that transitions between tracks stay on time with the tempo. Perfectly designed for creativity, DJControl Instinct lets you customize your mix with effects, loops, samples and Hot Cue points, and even by using the Step Sequencer. DJUCED also lets you save your creations as audio files, so that you can share your mixes with friends.
Hercules DJControl Instinct will be available from end of June 2012, at a suggested retail price of 99.99 Euro (VAT included).