IK Multimedia is now shipping the iRig™ MIX, the first ultra-compact DJ and audio mixer for the iPad, iPhone, and the iPod touch. When used with IK's included DJ Rig FREE app, it is a complete, highly portable system for practicing, rehearsing, performing and recording.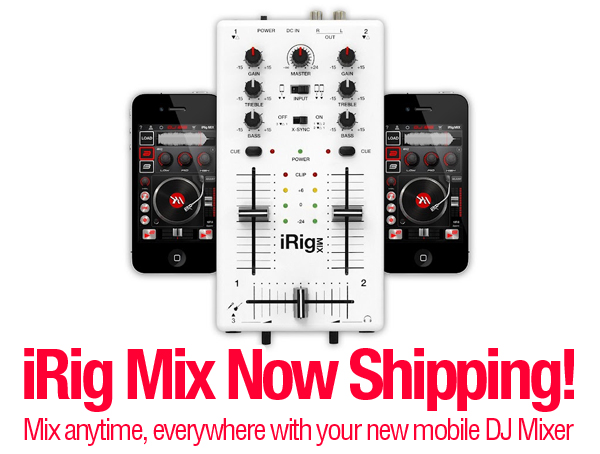 Perfect for DJ's on the go!
iRig MIX's portability gives aspiring and pro DJs a compact system that can be used everywhere…anytime. House parties or in the yard, after-parties, and impromptu dances are perfect environments for the iRig MIX. Planes, trains and automobiles used to mean that your DJ gear was inaccessible and unusable. Now, no matter where you are or where you are going, you can mix and rehearse sets.
Pro Mixing features
iRig MIX offers the same controls you would expect from a professional DJ mixer (crossfader, cues, EQ and volume controls, etc.) that can be used with a huge variety of iOS DJ mixing and other apps. For the first time on any DJ mixer – iRig MIX can be used for mixing any type of audio source (coming from mp3 players, CD players, etc.) with an iOS device using automatic tempo matching and beat syncing. This is accomplished with X-Sync, a feature that works in combination with the DJ Rig free app from IK Multimedia that is included with iRig MIX.
Not just for DJs!
iRig MIX is also perfect for solo musicians and small ensembles that use one or more iOS devices to play live. It features an extra guitar/microphone input that can be processed with other IK popular apps like AmpliTube® and VocaLive™ or any other app that offers real-time audio processing.
DJ Rig
IK's DJ Rig, a full-featured double-deck DJ mixing app for iPhone and iPod touch, is the perfect companion of iRig MIX and available for only $4.99/€3.99 on the App Store. With DJ Rig and iRig MIX combined you will have the most portable professional setup available for DJ's on the go. Running DJ Rig means that your professional tools are always with you — so you'll never miss a beat. Get DJ Rig and start mixing today!