Thanks to Ronny (Rekkerd.org) we came across this sexy, sweet, little controller for Native Instruments Traktor DJ software from Maago. The Maago 4×4 is a four decks usb/midi DJ controller, positioned as part of a new generation of hardware midi controller designed to work with Traktor Pro.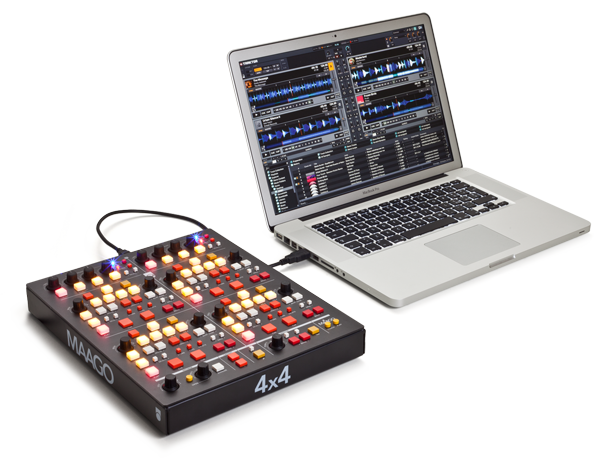 Total control over Traktor™ without the pain of the shift button
With more than 20 knobs and 40 buttons, this new hardware is built in a sturdy aluminum case and will be the perfect controller for all TRAKTOR PRO™ versions and any DJ software that supports the MIDI protocol. Simply connect the Maago 4×4 unit to a computer running TRAKTOR™ (or other DJ software) and gain instant control of your 4 decks, 4 effect parameters, loop controls, etc, all at same time and with no need to use the shift button to reach all these functions. High quality rotary knobs with a heavy-duty feel and 40 backlit buttons provide real visual and tactile feedback of your workflow, letting you perform on TRAKTOR™ without having to touch your computer.
Ready to perform. Just touch and play
Bi-directional communication with TRAKTOR™ via the MIDI protocol gives you all the information you need to easily improve your performance. All buttons and knobs have been mapped in a .tsi file that you simply import into your TRAKTOR™ mapping preferences.
We advise to use the pre-mapped .tsi file for optimum and high-speed TRAKTOR™ use but it can be re-mapped in any way you like. MAAGO 4×4 can also be used as a standard MIDI controller for any other software supporting the MIDI protocol.
Easy to use, easy to perform
Yes easy to use since MAAGO 4×4 buttons and encoders are clearly arranged to better fit the original TRAKTOR™ layout software. In fact, each of the 4 decks has its own dedicated area and includes all the main functions that TRAKTOR™ supplies to you. There is plenty of room for convenient control of selecting, cueing, synching and pitching tracks, so you don't have to worry about multi-function buttons at all. 20 knobs and 40 buttons simultaneously control up to 4 effects on each deck, loop controls, cue points, seeking, scratching, browsing, etc. You have only to think about your performance, your music: the right button for the right function, that's it.
As the unit is expected not to ship untill end of this year, we don't have a price yet.