Arturia announces the end of an agreement with Moog Music that will see its Moog Modular V and Minimoog V soft synths soon remerging as the updated and renamed Modular V and Mini-V, and is marking the occasion by giving away a one-off 'commemorative' edition of the Minimoog-V on World Music Day…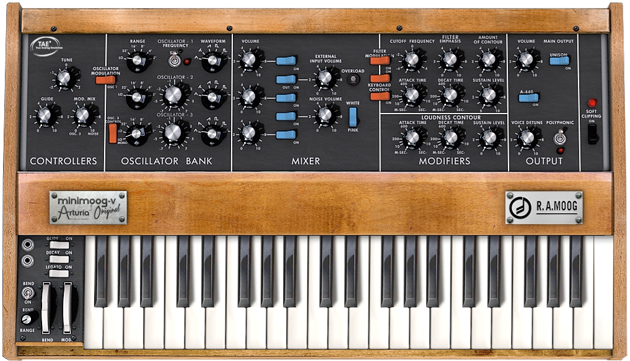 On June 21 only, musicians everywhere can download Minimoog-V Original from the Arturia website — for free! Minimoog-V Original includes all the sounds (more than 1,000 presets created by talented artists and renowned sound designers) and features (32-voice polyphony, plus much more besides) from the latest Minimoog- V update (Version 2.5), but without the additional functionality accessible behind the 'hinged' front panel — just like the original Minimoog.
Minimoog by name. Minimoog by nature. It's been several successful years since Arturia announced the release of its much-admired Minimoog-V soft synth — meticulously modelling the distinctive tones and analogue nuances of the legendary Seventies-vintage Minimoog Model D monosynth — in an agreement with Moog Music initiated by Bob Moog himself. Moog changed the musical world with the Minimoog and Arturia helped change the music software world with the Minimoog-V, so what better way to toast the passing of that productive partnership and end the arrangement between the two companies on a high note than with a generous giveaway on World Music Day?
Don't miss out: go get Minimoog-V Original for free on June 21! Save the 'download date' in your calendar…