Liine and Livid have teamed up to create a truly unique Ableton Live control experience. Griid software and Code hardware can now be linked as a single controller via free scripts. This hybrid control concept represents an innovative combination of multitouch control and hardware.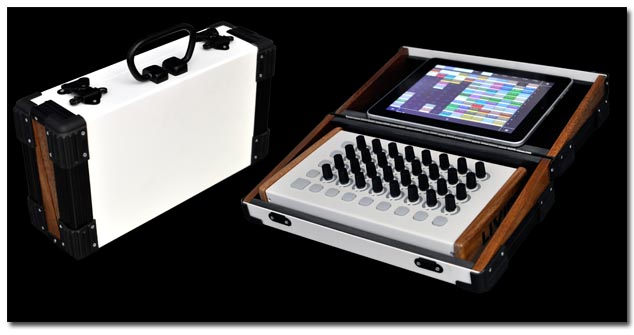 So what does it mean?
Griid software and Core hardware working together to create the ultimate in hands-on control for your Ableton Live sets. The latest Griid update, available in the iTunes App Store, enables a special sync mode with Code. Use Griid to navigate Session View and launch clips. Tap a header in Griid to select a track in Code. Grab knobs in Code to control mixer and effects. Four different Code control modes are available: Mixer, EQ, and two for Devices. Whether you're working in the studio or live on stage, Code and Griid are always in sync.
CORE MIDI
Griid is the only iPad controller for Ableton Live with full Core MIDI support. Griid, with or without Code, now natively supports hardware such as iConnect MIDI or a standard MIDI interface through the Camera Connection Kit. Connect to Ableton Live easily and reliably with cables or enjoy the freedom of wireless – it's your choice.
Win!
Liine and Livid have organised a special contest to celebrate this innovation in hands-on control. Simply enter your email on the Liine website for a chance to win the complete Hybrid Control setup. This includes a Livid Code hardware controller, the Liine Griid app, an iPad, and a beautiful one-of-a-kind handmade case. The winner will be drawn from all emails received between June 5 2012 and July 6 2012.
To enter the contest and for more information on Griid, including Hybrid Control setup with Code:
liine.net or lividinstruments.com