When Paul Epworth co-wrote and produced "Rolling In The Deep" off Adele's instantly classic album, 21, little did he know just how far that track would take him. Flash forward to the 2012 GRAMMY Awards ceremony where Epworth humbly accepted statues in two highly coveted categories — Song of the Year and Record of the Year — for his work on the track. To further hammer home the point, Epworth also triumphed in the categories of Album of the Year for 21 and Producer of the Year — an impressive feat, by any measure.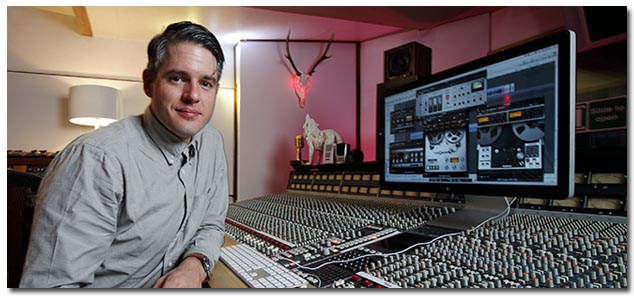 Though many music fans first became aware of Epworth through his work with Adele, the man is anything but an overnight success. With decades of experience in the recording studio behind him, Epworth has assembled an impressive resume that includes production credits on Cee Lo Green's The Lady Killer, Foster The People's Torches, Florence + the Machine's Ceremonials, and many others. As a remixer, his credits are equally impressive, including acts like Muse, Nine Inch Nails, U2, and Diddy.
Here's what Epworth had to say about his multiple Grammy wins, the signal chain behind the timeless vocals of Adele and other artists, and the Universal Audio tools that help him bring his unique and potent production aesthetic to hit project after hit project.
Congratulations on the Grammy wins! It was very cool to see you accepting those awards.
Thank you! It's funny thinking about how many people have seen it — I gather 37 million people watched that show. I tried to put that out of my mind at the time and tried not to worry about the pressure. I usually much prefer being in the studio. [Laughs.]
How did the awards affect you? Are you just back to business as normal, or has life really changed?
It's pretty weird, but I am back in the studio today. I had some time off with my wife and daughter right after the awards. I was just trying to quantify the whole thing. It's truly exciting. That producer award is possibly the highest accolade I could get in this business and my line of work. And to get another three awards for the album — Song and Record of the Year among them — I can't believe it. It's phenomenal.
"All the vocals on the Adele tracks I produced were recorded through the Universal Audio 6176, so you can credit Adele's bright and crystal-clear, dulcet tones to the UA preamp and compressor. In terms of getting a feel for the track, I use the UAD Roland RE-201 Space Echo all the time."
How would you characterize your production work?
I like to think of my work as dynamic. I'm really into textures, psychedelics, space, and, conversely, density. I love the idea of things that have harmonic depth. That's something I've been able to explore more using Universal Audio gear and software. I've been able to bring harmonics out of the tracks we record — like trying to find those even-order harmonics that you get using tape. The Studer A800 and Ampex ATR-102 tape plug-ins let you really bring out the warmth and positive tonalities in a track.
What Universal Audio tools did you use when you were producing Adele?
All the vocals on the tracks I produced were recorded through the Universal Audio 6176, so you can credit Adele's bright and crystal-clear, dulcet tones to the UA preamp and compressor. In terms of getting a feel for the track, I use the UA Roland RE-201 Space Echo all the time. The character, noise, and tonality you get on it are all true to the original unit, but you don't get hums and some of the other quirks that aren't always desirable. It's an absolutely amazing piece of gear and its sound has become a standard part of my production aesthetic.
What about reverb?
The UA EMT 140 Plate is one that I use all the time as well. That was responsible for a lot of the vocal tone that was on the original demos with Adele. That sound helped define the aesthetic of the whole album.
How exactly did you use those tools?
I used the RE-201 as a tape delay and put something like a 60-millisecond slap into the 140 Plate. The whole vocal sound came from that combination. I also used the UA Pultec Pro EQ Plug-in and Fairchild 670 Compressor Plug-In for tonality and compression on Adele's vocals.
Did you know before going into the studio with Adele how you wanted to use those plug-ins?
They're standard things I use because they have character and they sound classic. They're so close to the original items that you can't tell the difference just by listening. But for this instance, specifically, when you've got a voice like Adele's that sounds that classic, it's important to try to do it justice with the processing you use on it. For that purpose, I would only choose to turn to these Universal Audio versions of the real thing.
Please read the rest of this interesting interview on the Universal Audio website.